Planet Pala: Wildlife Tips – Pollinators Facts

Welcome to Planet Pala brought to you by Pala Band of Mission Indians and the Pala Environmental Department.


PLANET PALA: WILDLIFE TIPS – POLLINATORS FACTS
Do you know who are our important pollinators are around Pala? Do you know how to make your yard an inviting habitat for them?
POLLINATOR GARDENS
Make your garden a certified wildlife habitat that will invite in our pollinators – use native plants, water sources, & nesting materials to make a friendly pollinator garden.
POLLINATOR'S ROCK
Pollinators are vital for our food supply—without pollinators, we lose 90% of our plants (= 1/3 of our food crops!).
Important food source for other animals.
Essential for a healthy ecosystem & biodiversity plants & pollinators have evolved to work together.
As important as sunlight, moisture, nutrients!
HOW CAN I HELP?
PLANT LOTS OF NATIVE (FLOWER) PLANTS
• Use lots of different colors, shapes, & smells—to attract pollinators.
• Plant in clumps—it attracts more pollinators.
MAKE A POLLINATOR-FRIENDLY GARDEN
• Food, water, habitat/shelter for pollinators.
• Use native plants that flower throughout the growing season.
• Make it a NWS Certified Wildlife Habitat.
DON'T USE PESTICIDES/HERBICIDES/INSECTICIDES
• Use a natural pest control instead (Integrated Pest Management).
• Remove pests by hand or just let them be.
MAKE AN INSECT HOTEL OR BEE/BAT HOUSE
• Provide nesting habitat—tall grasses, fallen branches.
• Bee nesting block or insect hotel.
BE A BEEKEEPER & DO CITIZEN SCIENCE PROJECTS
• Track Monarch Butterflies & other pollinators.
WHY ARE POLLINATORS DYING?
• Climate Change
• Habitat Loss & Fragmentation
• Pesticide Use by Homeowners & Farmers
• Invasive (Non-Native) Plants Moving In
• Changes in Agriculture/Grazing
LIST OF POLLINATORS
• Butterflies & moths
• Beetles
• Ultra-green sweat bee
• Carpenter bee
• Bumble bee
• Leafcutter bee
• Mason bee
• Bats
• Hummingbirds
DOWNLOAD TIP SHEET
Feel free to download the Wildlife Tips – Pollinators Facts (.pdf).
---
Wildlife Tips – Pollinators Facts Sheet, Page 1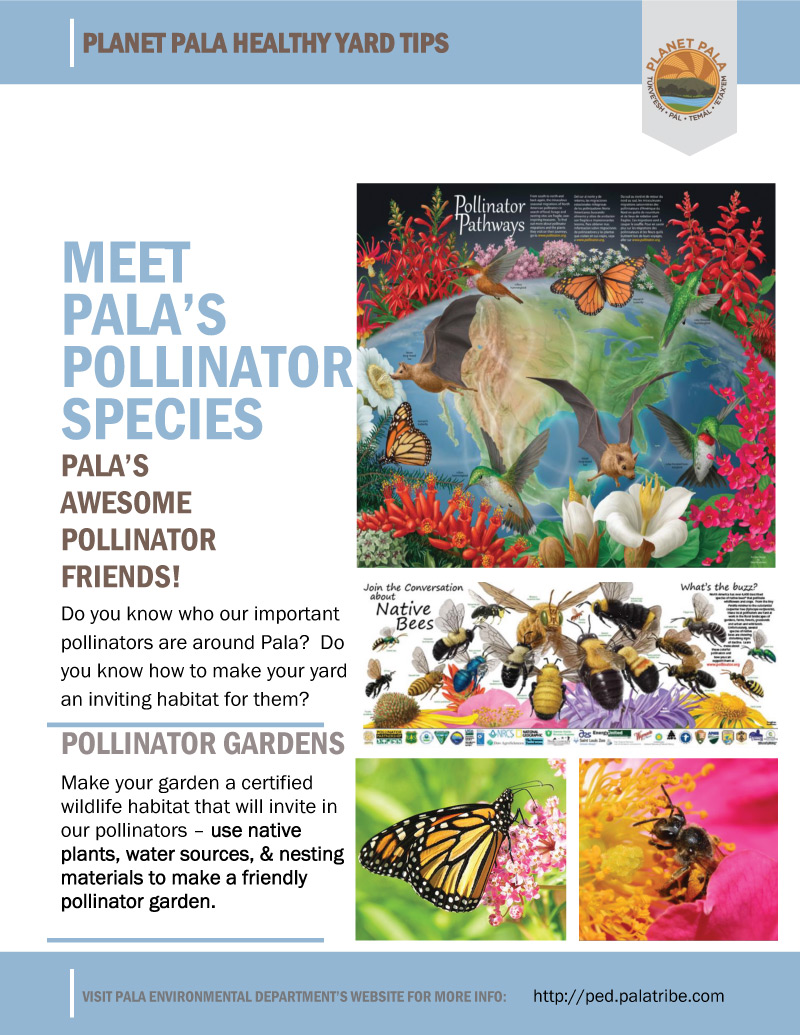 Wildlife Tips – Pollinators Facts Sheet, Page 2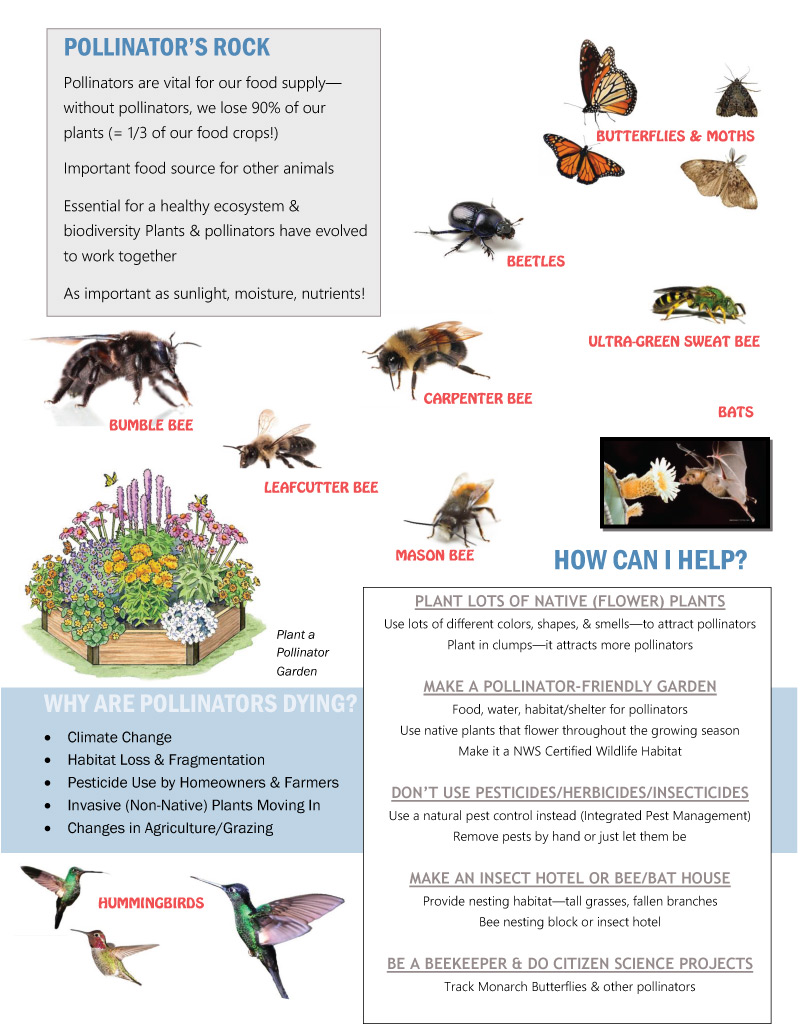 ---
PLANET PALA DIY, GREEN LIVING, AND WILDLIFE TIPS
Discover and follow our on-going Planet Pala series:
DIY | Green Living | Wildlife Tips
PLANET PALA ONLINE
You can find Planet Pala online:
Website | Instagram | Facebook
PED WILDLIFE BIOLOGIST
For more information from Pala Environmental Department's Wildlife Biologist:
Kurt Broz Profile | 760-891-3550 | kbroz@palatribe.com
PALA ENVIRONMENTAL DEPARTMENT
For more information contact the Pala Environment Department:
760-891-3510 | ped@palatribe.com | ped.palatribe.com.