Planet Pala: Wildlife Tips – Mountain Lion Facts and Safety

Welcome to Planet Pala brought to you by Pala Band of Mission Indians and the Pala Environmental Department.


PLANET PALA: WILDLIFE TIPS – MOUNTAIN LION FACTS AND SAFETY
MOUNTAIN LION, PUMA, PANTHER, OR COUGAR
Mountain lions have many names and are important parts of nature. These wildcats are large predators throughout the Americas, eating everything from deer to rabbits to birds.
HIKING SAFETY
Hike in groups. Don't let small children and pets out of sight, especially in forested areas in mountains or valleys.
ARE THEY DANGEROUS?
• Fewer than 10 fatal attacks in California since 1890.
• Most attacks are from young male mountain lions.
• Attacks are extremely rare, but almost always on individuals alone during dawn or dusk.
BE SAFE!
• If you come across a mountain lion:
• Be loud! Make noise to try and scare the animal away.
• Look large! Stand up, wave your arms, and hold your ground.
• As a last resort, throw rocks or logs.
• Don't run! Back away slowly facing the animal.
QUICK FACTS
Bobcats are much smaller and almost never attack people, though they might attack small pets and farm animals left outside at night. Mountain lions can reach 200 lbs. whereas bobcats are only around 15 – 20 lbs. Mountain lions have long tails and solid color fur as adults.
DOWNLOAD TIP SHEET
Feel free to download the Wildlife Tips – Mountain Lion Facts and Safety Sheet (.pdf).
---
Wildlife Tips – Mountain Lion Facts and Safety Sheet, Page 1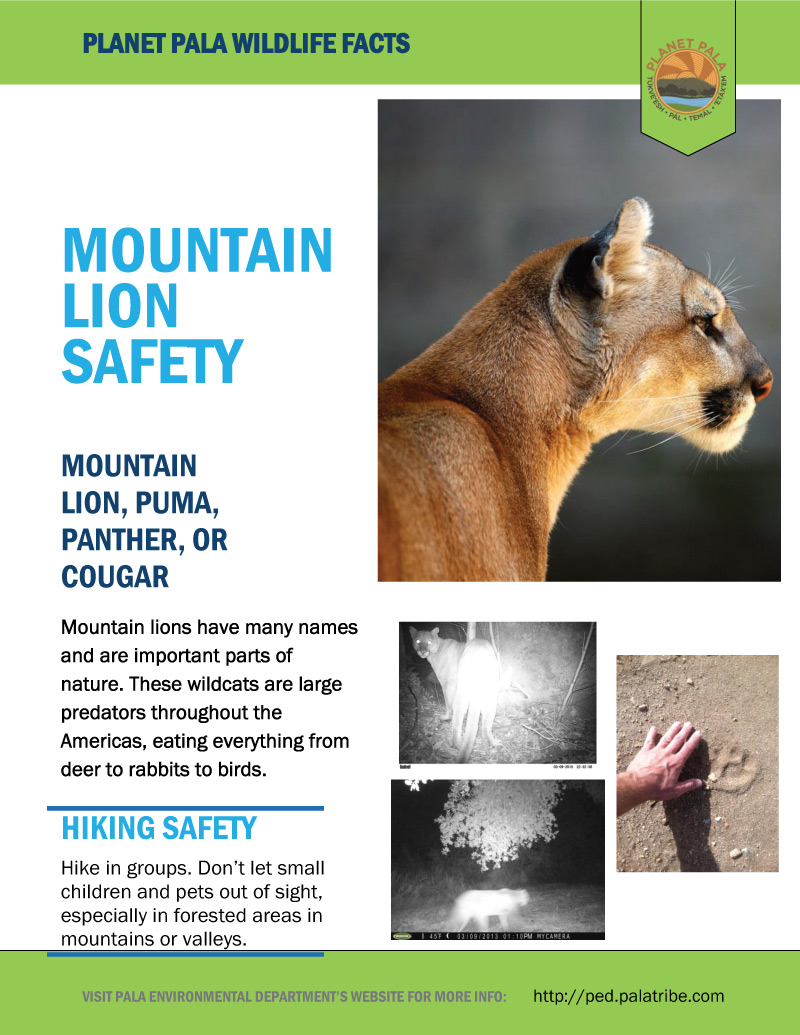 Wildlife Tips – Mountain Lion Facts and Safety Sheet, Page 2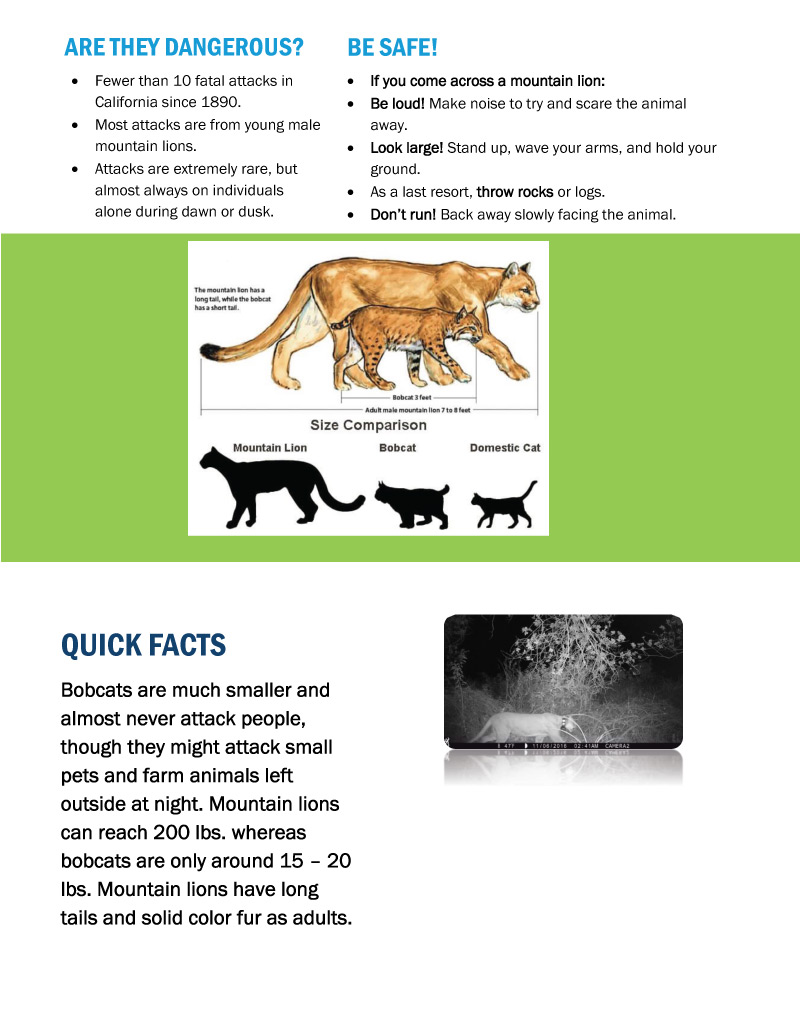 ---
PLANET PALA DIY, GREEN LIVING, AND WILDLIFE TIPS
Discover and follow our on-going Planet Pala series:
DIY | Green Living | Wildlife Tips
PLANET PALA ONLINE
You can find Planet Pala online:
Website | Instagram | Facebook
PED WILDLIFE BIOLOGIST
For more information from Pala Environmental Department's Wildlife Biologist:
Kurt Broz Profile | 760-891-3550 | kbroz@palatribe.com
PALA ENVIRONMENTAL DEPARTMENT
For more information contact the Pala Environment Department:
760-891-3510 | ped@palatribe.com | ped.palatribe.com