Planet Pala: Wildlife Tips – Coyote Facts and Safety

Welcome to Planet Pala brought to you by Pala Band of Mission Indians and the Pala Environmental Department.


PLANET PALA: WILDLIFE TIPS – COYOTE FACTS AND SAFETY
COYOTE: OUR URBAN PREDATOR
Coyotes, originally from the Southwestern US and northern Mexico, have spread throughout North America. Around Pala, most coyotes are about 30 lbs. or less and eat small animals, fruits, and trash.
COYŌTL
Coyote comes from the Aztec world Coyōtl. Coyotes are related to dogs and wolves but are their own species, Canis latrans. They live alone or in family groups.
IN NATURE
• Coyotes eat many pests, like gophers and mice.
• Females den in burrows, old logs, or debris piles.
• They usually live alone or as pairs with young, almost never in large packs.
SAFETY TIPS
• Never touch a wild coyote, even a pup.
• Don't feed coyotes or leave out meat scraps.
• Don't leave out pet food.
• Keep chickens and pets sheltered at night.
• Don't hike alone.
• If a coyote approaches, make noise and try and appear larger or more aggressive.
DISEASES
Coyotes can spread rabies and other diseases, so keep domestic dogs away from coyotes. Mange is common in urban coyotes and is characterized by a loss of hair. Fearless coyotes are more likely to be sick than those acting naturally and avoiding people.
DOWNLOAD TIP SHEET
Feel free to download the Wildlife Tips – Coyote Facts and Safety Sheet (.pdf).
---
Wildlife Tips – Coyote Facts and Safety Sheet, Page 1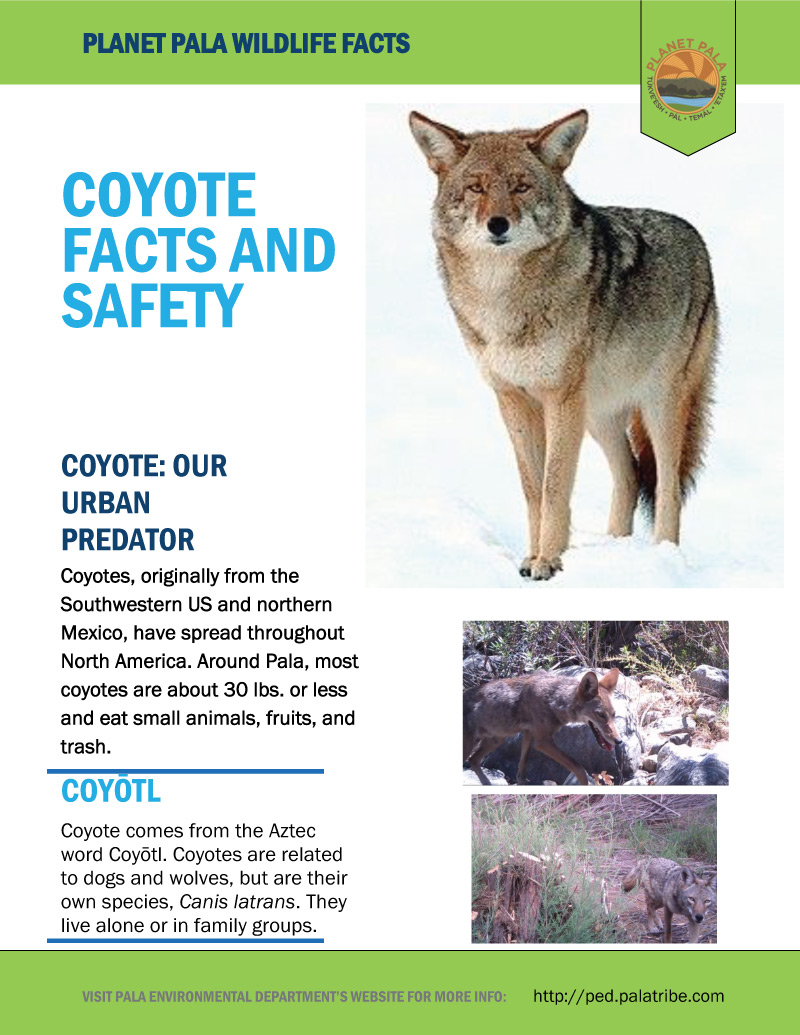 Wildlife Tips – Coyote Facts and Safety Sheet, Page 2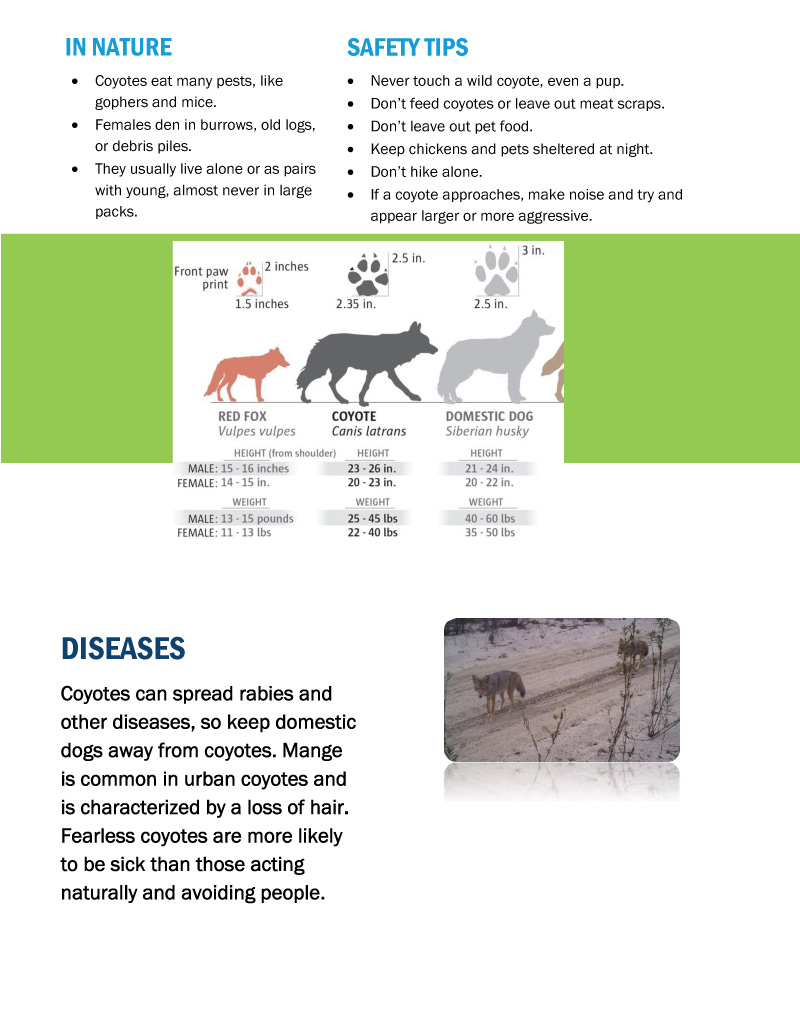 ---
PLANET PALA DIY, GREEN LIVING, AND WILDLIFE TIPS
Discover and follow our on-going Planet Pala series:
DIY | Green Living | Wildlife Tips
PLANET PALA ONLINE
You can find Planet Pala online:
Website | Instagram | Facebook
PED WILDLIFE BIOLOGIST
For more information from Pala Environmental Department's Wildlife Biologist:
Kurt Broz Profile | 760-891-3550 | kbroz@palatribe.com
PALA ENVIRONMENTAL DEPARTMENT
For more information contact the Pala Environment Department:
760-891-3510 | ped@palatribe.com | ped.palatribe.com.