Welcome to Planet Pala brought to you by Pala Band of Mission Indians and the Pala Environmental Department.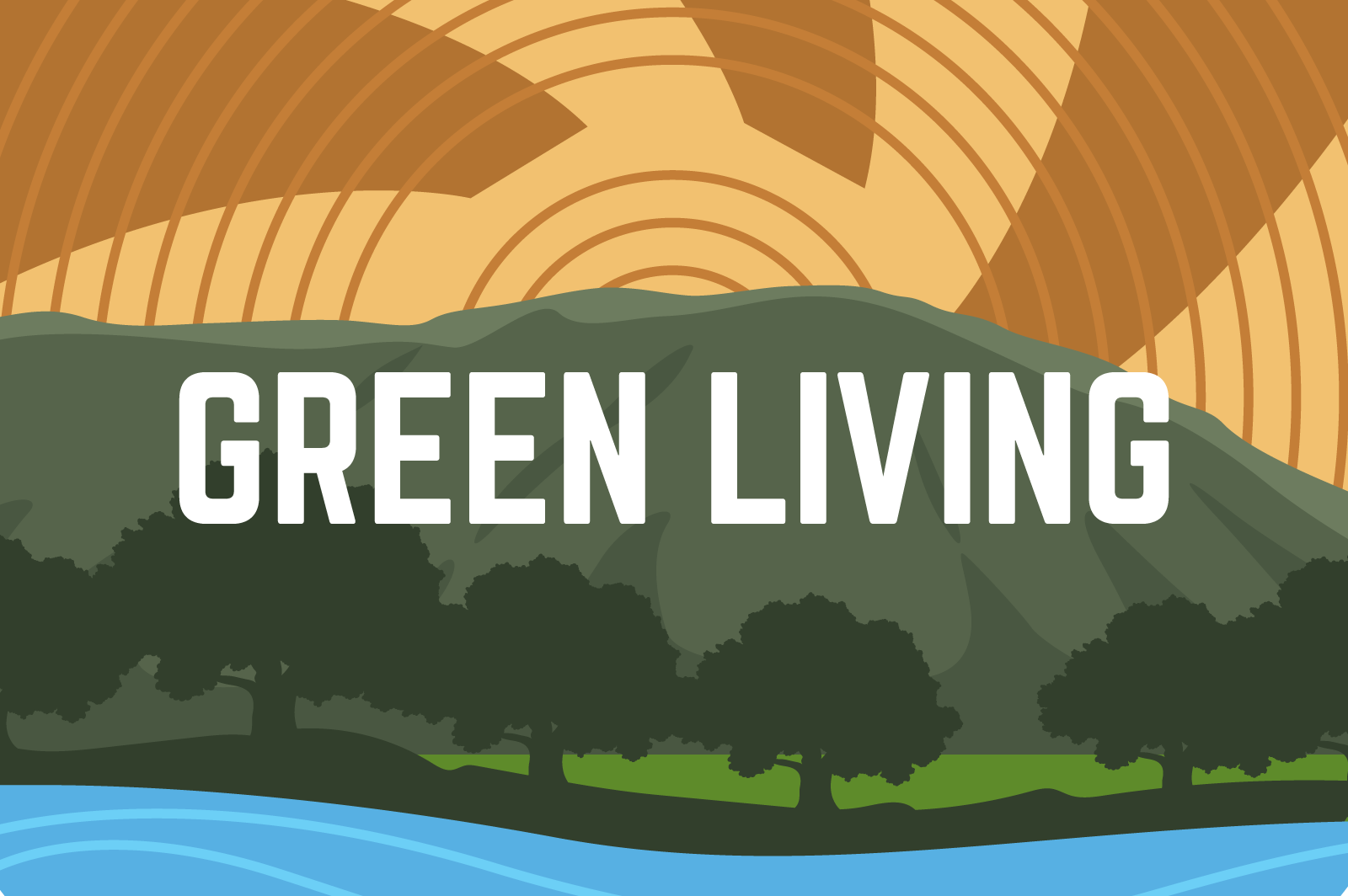 PLANET PALA – GREEN LIVING: RECYCLING AT THE PALA TRANSFER STATION
HELP CONSERVE NATURAL RESOURCES
You'd be surprised what you can recycle with our co-mingled recycling program! You can put all your recyclables in one container.
RECYCLING is one of the best ways to help protect our environment. There are three key factors when thinking about how to recycle:
REDUCE – REUSE – RECYCLE
DO RECYCLE
• Mixed Paper & Cardboard
• Writing paper
• Computer paper
• Newspaper
• Flattened cardboard
• Flattened boxes
• File folders
• Junk Mail
• Magazines
• Shredded paper
• Paper packaging
• Paper bags
• Styrofoam packaging (NO packing peanuts)
• Recyclable Containers:
• Aluminum cans
• Glass bottles & jars
• Steel (tin) cans
• All plastic jugs & containers marked 1 through 7 or labeled "CA Redemption Value"
• Cartons
DO NOT RECYCLE
• Disposable plates or cups
• Paper towels
• Tissue
• Carbon paper
• Plastic bags (NO plastic grocery bags, newspaper delivery bags, or chip/ snack bags)
• Drinking glasses
• Mirrors
• Styrofoam packing peanuts
• Batteries (Place in your HHW bin)
• Light bulbs (Place in your HHW bin)
• Clothing
• Shoes
• Ceramics
RECYCLING ALTERNATIVES
• Plastic bags can be returned to grocery stores for recycling or be reused
• Reusable items like clothes, shoes, and furniture can be donated
• Batteries and lightbulbs can be recycled through our household hazardous waste recycling program (visit our website for details)
DOWNLOAD TIP SHEET
Feel free to download the Green Living – Recycling at the Pala Transfer Station (.pdf).
---
Green Living – Recycling at the Pala Transfer Station, Page 1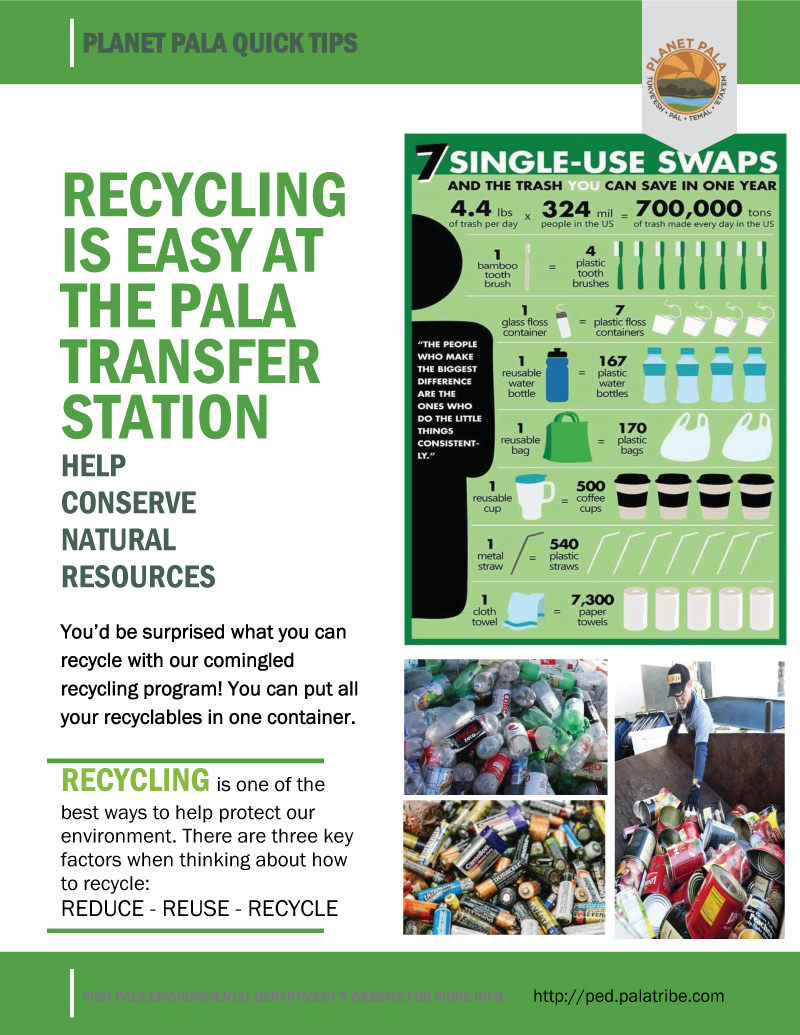 Green Living – Recycling at the Pala Transfer Station, Page 2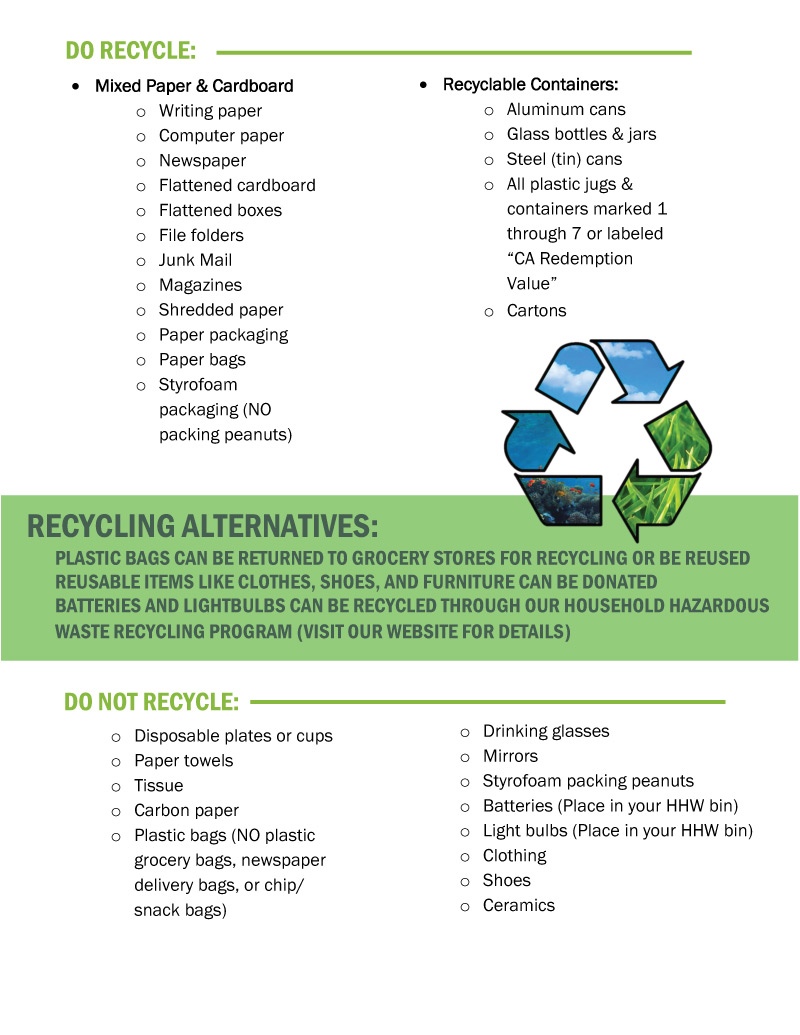 ---
PLANET PALA DIY, GREEN LIVING, AND WILDLIFE TIPS
Discover and follow our on-going Planet Pala series:
DIY | Green Living | Wildlife Tips
PLANET PALA ONLINE
You can find Planet Pala online:
Website | Instagram | Facebook
PED WATER RESOURCE SPECIALIST
For more information from Pala Environmental Department's Water Resource Specialist:
Heidi Brow's Profile | 760-891-3514 | hbrow@palatribe.com
PALA ENVIRONMENTAL DEPARTMENT
For more information contact the Pala Environment Department:
760-891-3510 | ped@palatribe.com | ped.palatribe.com.