Planet Pala: Green Living – House Plants & Indoor Air Quality

Welcome to Planet Pala brought to you by Pala Band of Mission Indians and the Pala Environmental Department.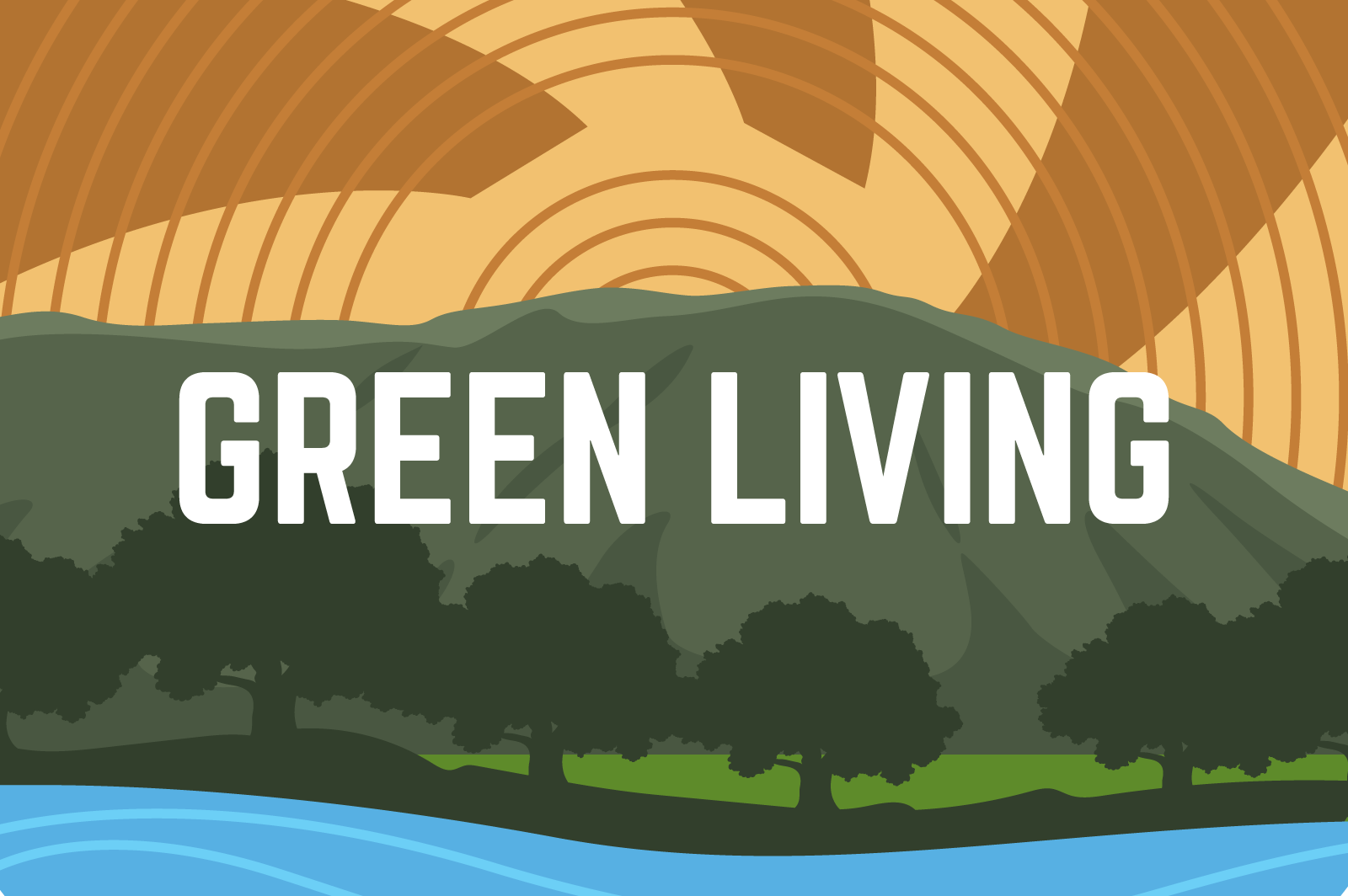 PLANET PALA – GREEN LIVING: HOUSE PLANTS & INDOOR AIR QUALITY
PLANTS GIVE US OXYGEN FOR THE LUNGS AND FOR THE SOUL
Indoor air quality is affected by environmental changes, including climate change. Plants are a fun way to help mitigate some of these effects.
FOR HEALTHY INDOOR AIR
To help keep the air in your home healthy you can: keep your house tidy; change filters regularly; let the fresh air in, and some days keep the bad air out.
THE BENEFITS OF HOUSEPLANTS IN YOUR HOME
IMPROVED AIR QUALITY
Through photosynthesis, plants create oxygen that means they can act as air purifiers.
Plants reduce pollutants found in the air, like benzene, formaldehyde, and nitrogen dioxide.
LOWER BACKGROUND NOISES
Plants naturally act as a dampener for loud noises and ambient sounds. Plants absorb, diffract, or reflect background noises and high frequencies.
REDUCES STRESS & IMPROVED MENTAL HEALTH
Being surrounded by plants can help reduce stress levels and increase productivity and concentration. Plants can help regulate humidity in the environment and even contribute to lower blood pressure levels.
CHOOSING THE RIGHT PLANTS FOR YOUR HOME
Things to consider when choosing a new plant:
Room conditions
• Lighting- different plants have different light requirements. Some need bright indirect light and some can do better with less light. It is important to know what kind of lighting is available in the space you have.
• Temperature- Some plants are more sensitive to drafts and temperature changes than others. It is important to know where you plan on putting the plant before buying it so that it can be set up for successful growing.
Water requirements
• Some plants need to stay moist all the time, some light to dry out between watering. Knowing the watering requirements before you buy can save a lot of heartache (and dead plants) in the end.
Know yourself
• It is also important to know how much time and care you are willing to devote to your plants before purchasing. If you are forgetful and may only water once a week or so it is a good idea to get a plant that thrives on neglect. If you like to check your plants daily then there are ones that will love you for it!
HOUSE PLANTS LIST
Plants to Help Clear the Air
Common Names, Scientific Names
• DWARF DATE PALM, Phoenix roebelenii
• ARECA PALM, Dypsis lutescens
• BOSTON FERN, Nephrolepis exaltata 'Bostoniensis'
• KIMBERLY QUEEN FERN, Nephrolepis obliterate
• ENGLISH IVY, Hedera helix
• SPIDER PLANT, Chlorophytum comosum
• DEVIL'S IVY (POTHOS), Epipremnum aureum
• PEACE LILY, Spathiphyllum 'Mauna Loa'
• FLAMINGO LILY, Anthurium andraeanum
• CHINESE EVERGREEN, Aglaonema modestum
• BAMBOO PALM, Chamaedorea seifrizii
• SNAKE PLANT (MOTHER-IN-LAWS TONGUE), Sanevieria trifasciata
• HEARTLEAF PHILODENDRON, Philodenron coratum
• SELLOUM PHILODENDRON, Philodendron bipinnatifidum
• ELEPHANT EAR PHILODENDRON, Philodeendron domesticum
• RED-EDGE DRACAENA, Dracaena marginata
• CORNSTALK DRACAENA, Dracaena fragrans 'Massageana'
• WEEPING FIG, Ficus benjamina
• BARBERTON DAISY, Gerberajamesonii
• FLORIST'S CHRYSANTHEMUM, Chrysanthemum morifolium
• RUBBER PLANT, Ficus elastica
• DENDRONIUM ORCHIDS, Dendrobuim spp.
• DUMB CANE, Dieffenbachia spp.
• KING OF HEARTS, Homalomena wallisii
• MOTH ORCHIDS, Phalaenopsis spp.
• ALOE VERA, Aloe vera
• JANET CRAIG, Dracaena deremensis 'Janet Cragi'
• WARNECKEI, Dracaena deremensis 'Warnecki'
• BANANA, Musa acuminata
* This list is not exhaustive. There are many great houseplant options!
** Be sure to check for size & growing requirements before choosing a new friend!
DOWNLOAD TIP SHEET
Feel free to download the Green Living – House Plants & Indoor Air Quality (.pdf) and the Plants to Help Clear the Air List (.pdf).
---
Green Living – House Plants & Indoor Air Quality, Page 1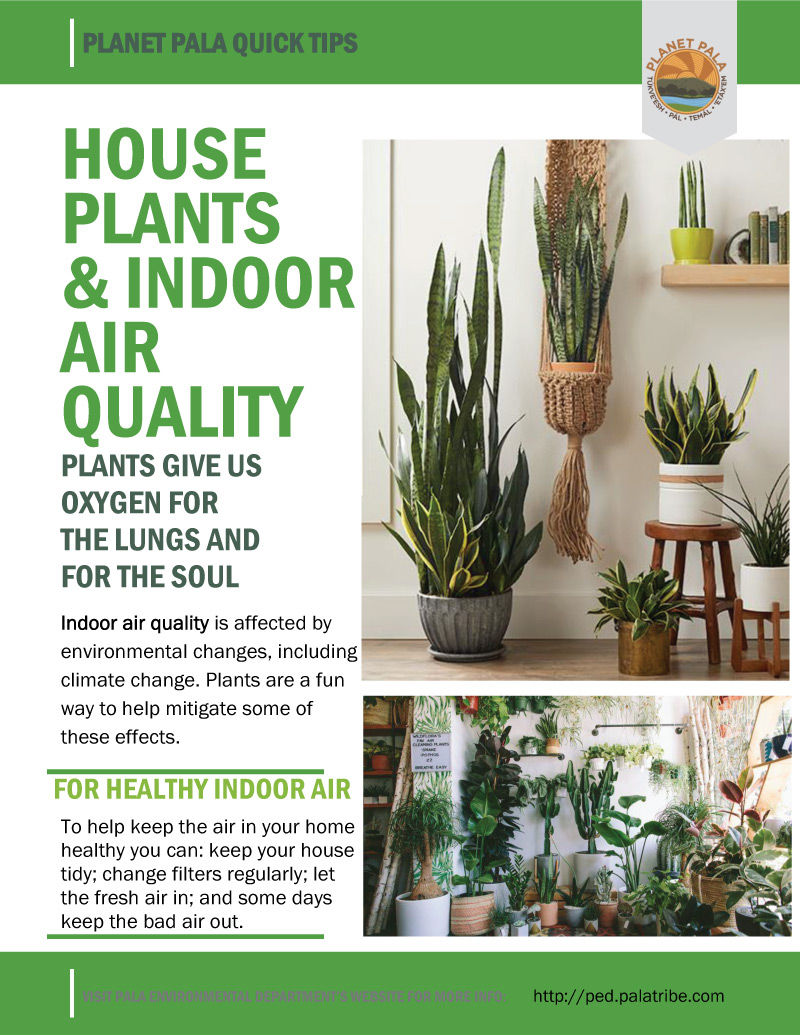 Green Living – House Plants & Indoor Air Quality, Page 2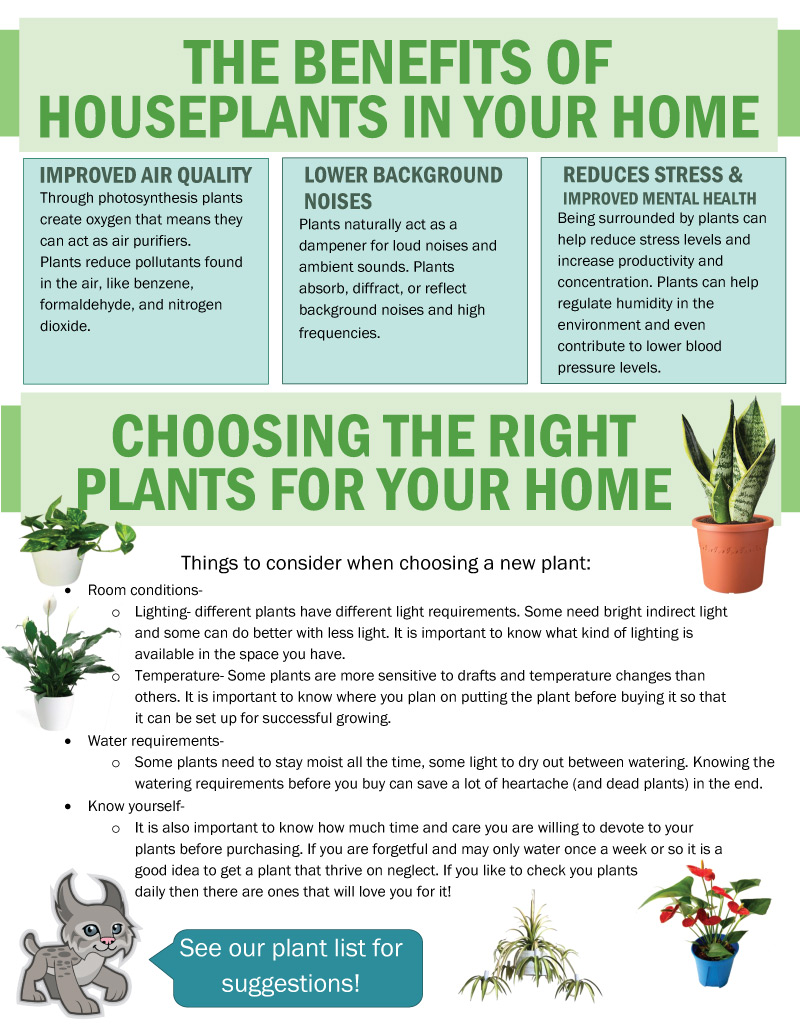 Green Living – House Plants & Indoor Air Quality, List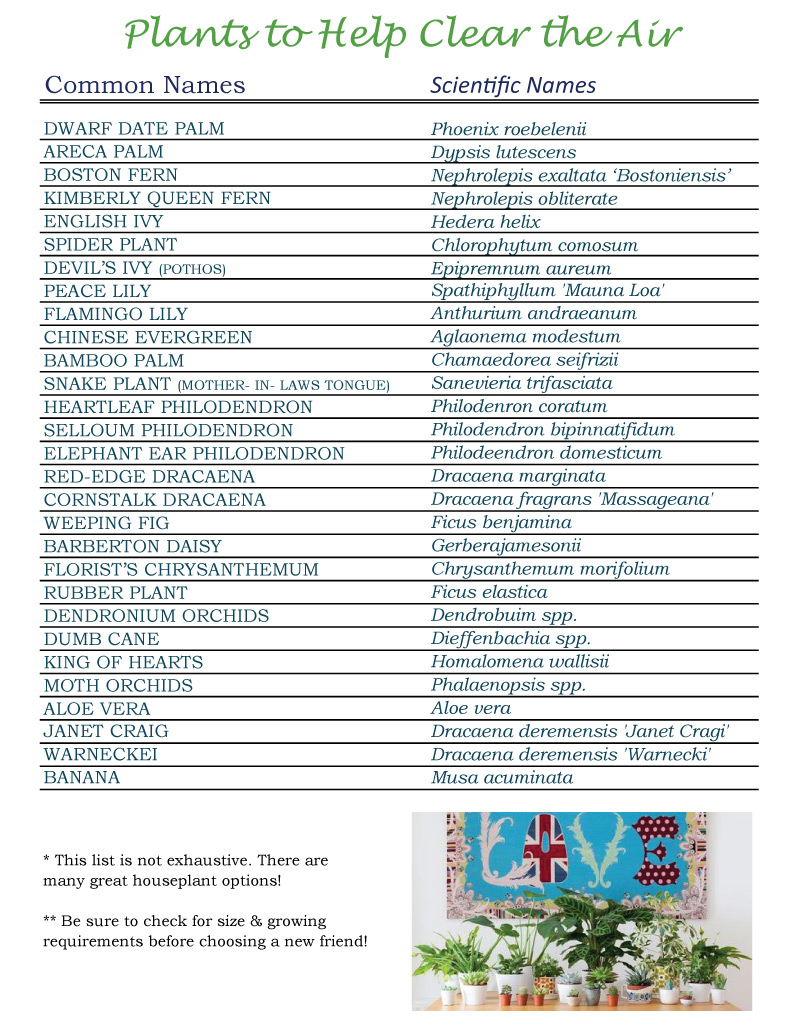 ---
PLANET PALA DIY, GREEN LIVING, AND WILDLIFE TIPS
Discover and follow our on-going Planet Pala series:
DIY | Green Living | Wildlife Tips
PLANET PALA ONLINE
You can find Planet Pala online:
Website | Instagram | Facebook
PED WATER RESOURCE SPECIALIST
For more information from Pala Environmental Department's Water Resource Specialist:
Heidi Brow's Profile | 760-891-3514 | hbrow@palatribe.com
PALA ENVIRONMENTAL DEPARTMENT
For more information contact the Pala Environment Department:
760-891-3510 | ped@palatribe.com | ped.palatribe.com.