NOTICE – Weather Alert for 2/13 to 2/14 and 2/16 to 2/17.
RAINSTORM
PALA, CA – Pala will be impacted by a storm that will bring high levels of rain from Wednesday to Thursday afternoon.
WEDNESDAY AND THURSDAY
The heaviest precipitation will be from Wednesday (2/13) night until Thursday (2/14) afternoon, with Pala and surrounding areas expecting to receive up to 3 inches of rain. We will see heavy runoff, including high flow and potential flooding in the San Luis Rey River, Pala Creek, and other streams throughout the area. This is a warm, wet storm that will also bring gusty winds that could blow down trees and branches. Rain and wind will diminish through Friday.
SATURDAY AND SUNDAY
On Saturday (2/16) and Sunday (2/17), we expect another weather system to bring colder temperatures and some rain. Although this second storm will be much lighter, the ground will already be saturated, which means there could still be runoff and flooding. Please take precautions to protect yourself and your property from flooding and wind hazards.
SANDBAGS
The Pala Fire Department has sandbags available for community members (maximum of 10 per household).
Pala Fire Department
34884 Lilac Extension Road
Pala, CA 92059
760-742-1632
SAFETY
Do not attempt to cross running water with your vehicle. Stay indoors and away from trees. Bring pets indoors or make sure they have a dry, secure shelter away from flood-prone areas.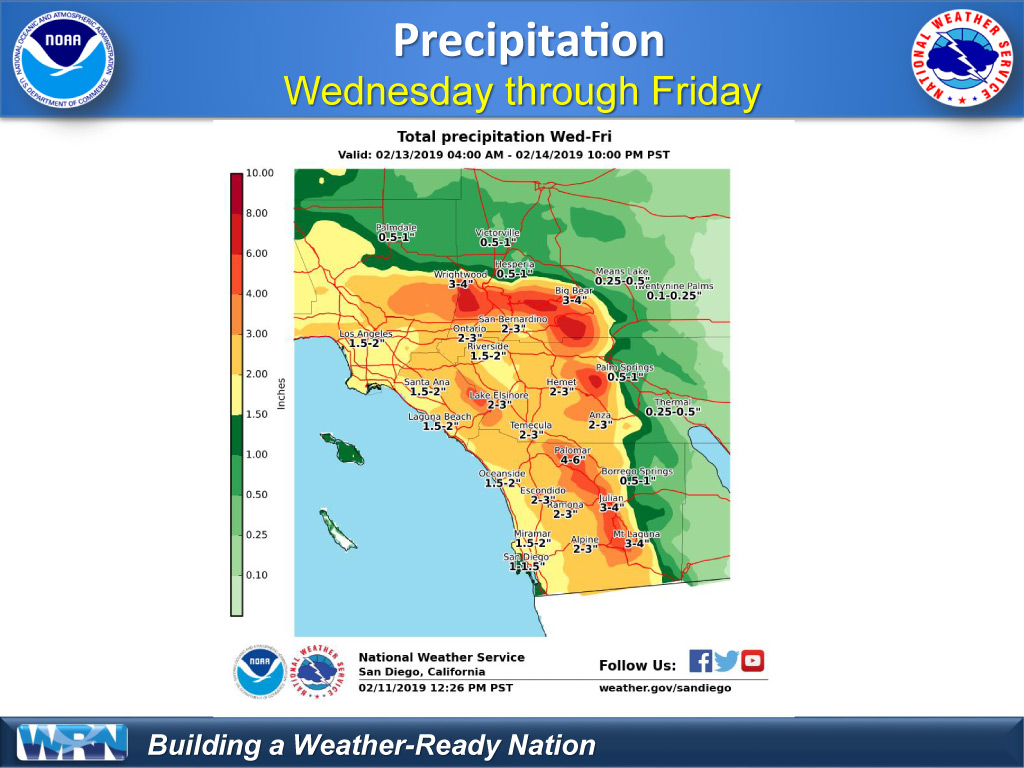 DETAILED REPORT
Upcoming Atmospheric River (aka, pineapple express)
This upcoming storm will be: very warm, very wet & will be hitting mostly Central/Southern California (including us)
The heaviest precipitation will be Wednesday night – Thursday afternoon
Our total precipitation will be:

Pala Area (valleys/coast) = 1-3"
Palomar Mountain (coastal slopes) = 3-8" (plus snow will be melting)(probably on the high end of precip levels)
Flooding impacts will occur by Thursday

A long period of light-moderate rainfall, which will steadily add up & cause flooding/run-off
This storm WILL CERTAINLY BRING flooding to our creeks/rivers & other low-areas
Rivers will rise at least 2-3 feet – including San Luis Rey River
Wednesday
Rain will be developing all day (no breaks), getting heavier by Wednesday night
Snow levels will be very high (8000-9000') meaning snow melt/run-off is VERY LIKELY
Rain will be like a hose hitting our coastal slopes (any mountains facing south/west – aka, facing the ocean)
Thursday
Rain – all day; heaviest in the morning through afternoon
MORNING HOURS = HEAVIEST PRECIPITATION, FLOODING IMPACTS, & RIVER LEVEL RISE
Snow level ~ 9000'
Friday
Lighter showers continuing all through Friday.
Remember, long periods of light/moderate rain can add up steadily & cause flooding impacts
Late Saturday night – Sunday morning – this will be another cold front like last weekend
Cold front; some bands of rain, but overall pretty light; snow levels will drop to around 5000'
Potential Impacts:
Very warm rain event & high snows = most of our snow will melt & increase the runoff
Rivers & creeks (including the San Luis Rey River) will FLOW (more than it has in over a year)
Palomar Mountain Creeks will FLOW (this will increase our run-off here at Pala)
Gusty winds may cause pines/eucalyptus trees/branches to fall
Meaning of Weather Advisories:
WARNING = urgent news – please read & make sure you are safe
WATCH = this is a potential for your area; continue to watch the news
ADVISORY = this is just a general update for impacts to the entire region
PALA ENVIRONMENTAL DEPARTMENT
For more information contact the Pala Environment Department:
760-891-3510 | ped@palatribe.com | ped.palatribe.com