Date

May 19, 2021

Time

10:00 am - 11:30 am
Tribal Climate & Health Adaptation
Tribal Wellbeing Adaptation Webinar Mini-Series
Getting Ahead of Climate Trauma
April 21, 2021 | May 19, 2021 | June 16, 2021
Online
Tribal-serving professionals are doing their best to prepare Tribes for the impacts of climate change ranging from hardening infrastructure to protecting wildlife. But have we forgotten to safeguard our wellbeing? While communities across the US are already suffering climate-related impacts to mental health and wellbeing, there is a lot we can do to better brace ourselves for the future.
Hosted by the Pala Band of Mission Indian's Tribal Climate Health Project, this interactive three-part webinar series will help arm tribal-serving professionals with knowledge and skills to build psychosocial, emotional, and spiritual resilience in tribal communities before the next wildfire, flood, or other emergency hits.  Join peers and expert speakers to discuss emerging research, innovative perspectives, and actionable strategies.
Registration
Spaces are limited so register ASAP: https://palatribe.zoom.us/webinar/register/WN_5lTalIxmTsyQfHELI9RPuw
After registering, you will receive a confirmation email containing information about joining the webinar.
Webinar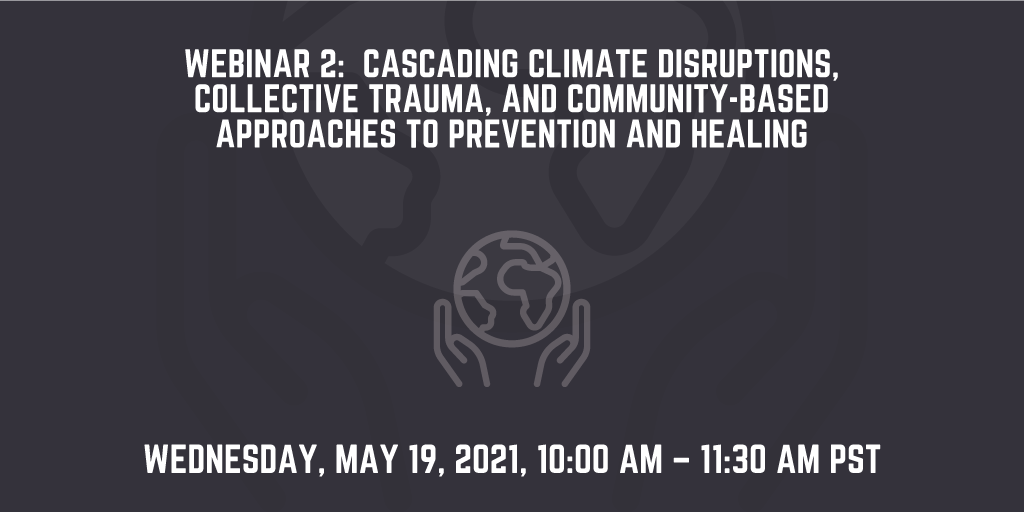 Webinar 2: Cascading climate disruptions, collective trauma, and community-based approaches to prevention and healing
Featuring Bob Doppelt, The Resource Innovation Group (TRIG)
May 19 @ 10:00 am – 11:30 am PST / 1:00 pm – 2:30 pm EST
Pala Environmental Department – Shasta Gaughen
For more information contact the Pala Environment Department:
760-891-3515 | sgaughen@palatribe.com | ped.palatribe.com
Flyer
Feel free to download and share the event flyer.