PED's Spring Cleaning Swap Shop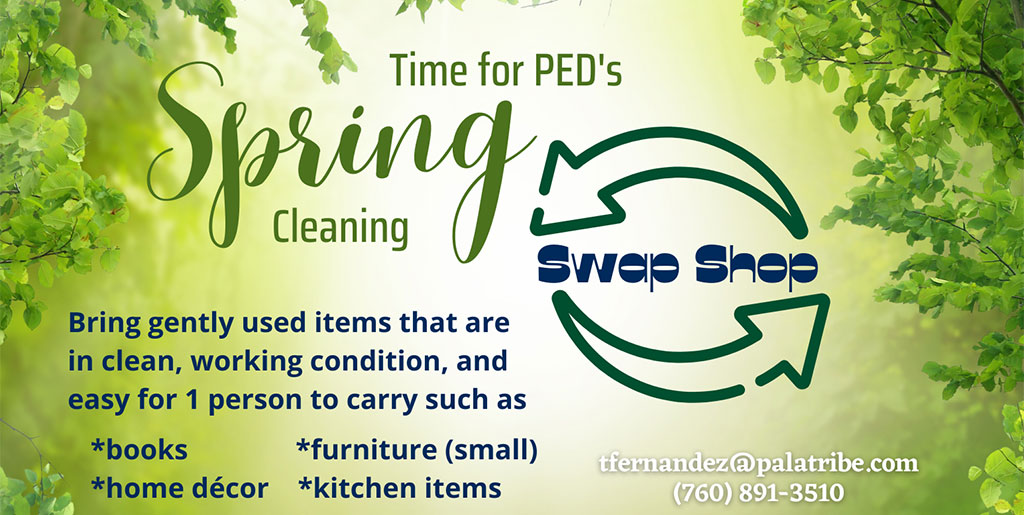 Date

March 28, 2023

Time

10:00 am - 4:00 pm

12196 Pala Mission Rd, Pala, CA 92059
Pala Environmental Department
Spring Cleaning Swap Shop
Tuesday, March 28, 2023
10:00 a.m. – 4:00 p.m.
Pala Admin Parking Lot
The Pala Environmental Department will have a booth at this year's event, and we need your help! In an effort to reduce the amount of material that goes into landfills, we will be holding a Stuff Swap!
Please bring gently used items Stuff Swap event. We are accepting the following:
Books
Home Decor
Tools
Furniture (small)
Kitchen Items
Toys
Arts and Crafts Supplies
Please do not bring dirty, broken applicants, car seats, large furniture, or light bulbs.
Swap items, take items without leaving anything, or leave items without taking anything.
Pala Environmental Department
For more information, contact Tina Fernandez at the Pala Environment Department:
760-891-3510 | tfernandez@palatribe.com | ped.palatribe.com