Climate Change: Flooding Storms and Pala

Welcome to the Climate Change series brought to you by Pala Band of Mission Indians and the Pala Environmental Department.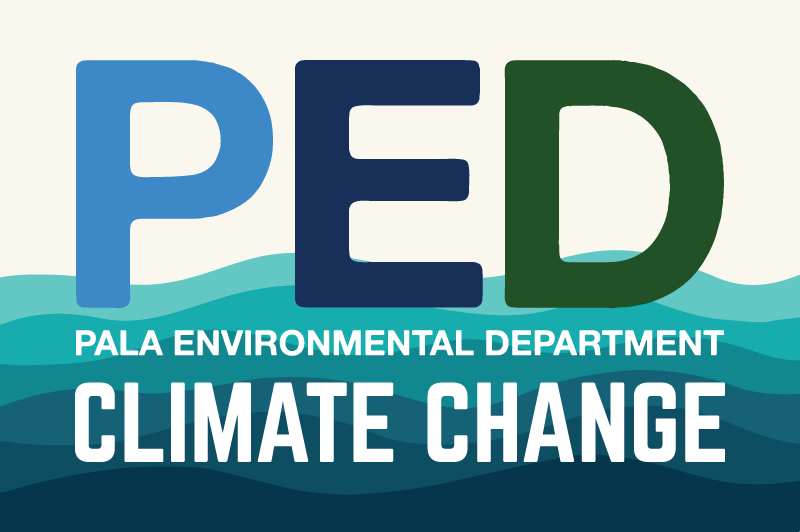 What do severe storms and flooding mean for Pala?
Pala completed a Climate Change Vulnerability Assessment in 2019, which identified storms and flooding as one of four high-risk exposures resulting from climate change.
Key Facts about Storms and Flooding at Pala
Extreme rainfall events are becoming increasingly frequent and severe in the United States as a result of climate change. The EPA projects the number of 100-year floods in the contiguous United States to rise steadily for the remainder of the century under high emission scenarios.
In San Diego County, the drying that is projected with increased drought intensity and longer seasonal dry periods is offset with a projected increase in the wettest days. This means that storms will be less frequent and occasionally stronger. Greater drought conditions and lower soil moisture lead to flash floods along rivers and creeks in inland areas, as well as mudslides and landslides, especially in areas recently affected by wildfire. By 2100, CDPH predicts that 40% more land in San Diego County will become vulnerable to 100 and/or 500-year flood events.
Flooding events are common at Pala and associated with water drainage problems on the Reservation. Major events in 1998, 2005, 2010, and 2017 flooded Pala's roads, damaged property, and trapped residents. Strong wind events and thunderstorms are also a noted hazard at Pala. Storms and flooding are known to trigger secondary exposures such as worsened air quality (indoor mold), water insecurity, and vector changes (e.g. mosquitos).
Pala's High-Risk Health Impacts
Did you know that storms and flooding can harm our physical, emotional, spiritual and cultural health and wellbeing? Below are health impacts considered high or medium risk for residents of Pala.
Storm and flooding-related injury and death
Illness due to inability to access critical health services (from damage to roads, power, telecommunications, hospitals)
Carbon monoxide poisoning (e.g. from generators during a power outage)
Mental health impacts including post-traumatic stress, depression, anxiety, and grief
Infections due to contact or ingestion of pathogens in contaminated water
Drinking water supply interruption
Short or long-term relocation
Lost work, school, or business days
Illness due to mold infestation
Illness and death caused the West Nile Virus and Zika
Tips for Staying Safe During Storms and Flooding
Follow directions from local officials regarding evacuation, shelters and safe drinking water advisories
Avoid driving through flooded roads
Avoid contact with floodwater and disinfect everything that has touched floodwater
Create your own emergency supply kit
Learn about the National Flood Insurance Program (NFIP) Flood Smart – Flood Facts
Check on elders and other vulnerable neighbors
Don't forget your pets!
Take advantage of medical and emotional care services
Engage in healthy coping behaviors and seek comfort in community events following a weather-related disaster
Set up a family Evacuation Plan
Follow Pala Environmental Department on Facebook for climate updates and information
Sign up for San Diego County's Alert System
Learn More
What Is Pala Doing to Adapt and Prepare?
Pala completed an Adaptation Plan with a full list of strategies to help safeguard the health and wellbeing of the Pala community. Below are a few examples of ways we plan to address wildfire threats.
Develop tribal transportation resilience plan to evaluate, strengthen and expand infrastructure (roads, bridges, etc.) and systems (transit)
Install, re-engineer or conduct preventative maintenance on retaining walls, drainage systems, water storage tanks, stormwater retention basins, culverts, storm systems, porous surfaces, etc.
Increase urban forestry, tree, landscapes and other green infrastructure to reduce stormwater runoff and increase heat resilience and increase tree canopy. Expansion and management of Pala's natural infrastructure such as healthy watersheds and soils can build local resilience by improving soil water-holding capacity and reducing flooding and erosion.
DOWNLOAD TIP SHEET
Feel free to download our tip sheet: Climate Change – Flood, Storms and Pala (.pdf).
---
Climate Change – Flooding Storms and Pala, Page 1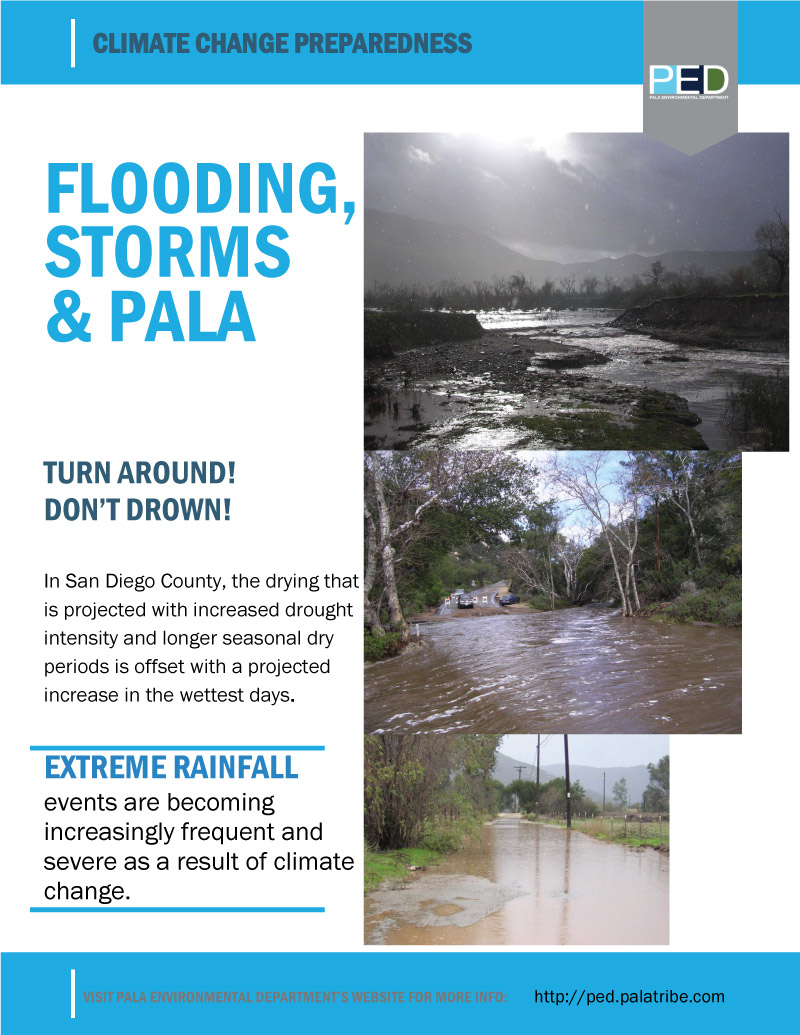 Climate Change – Flooding Storms and Pala, Page 2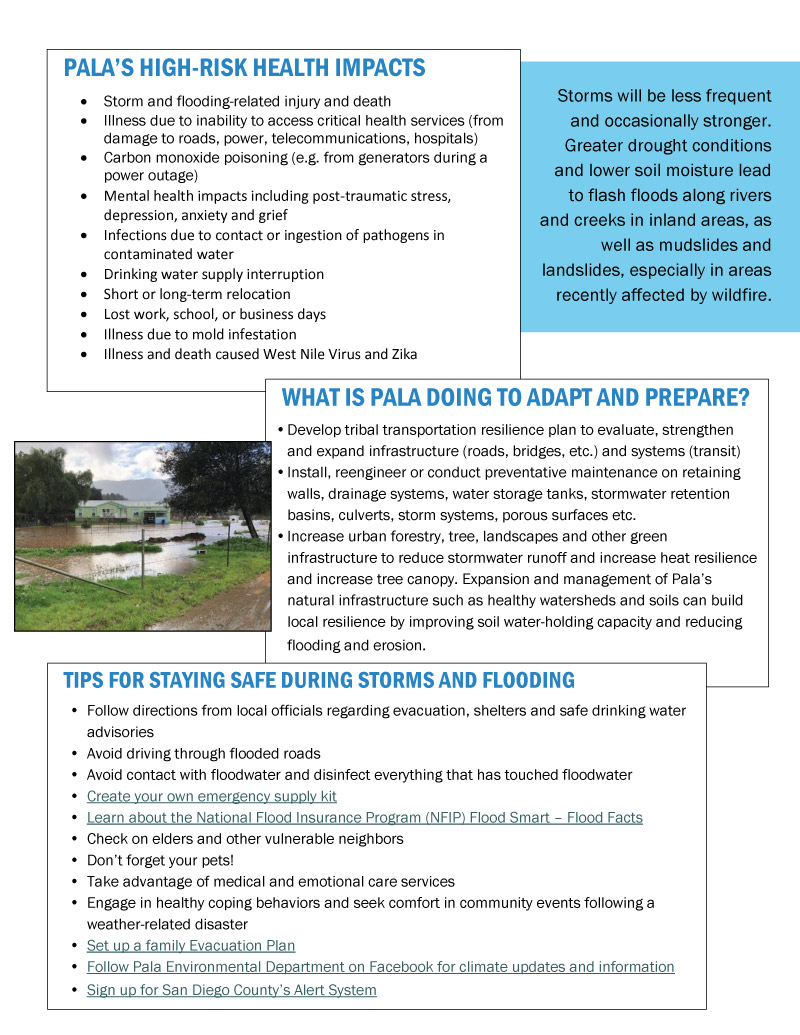 ---
PALA ENVIRONMENTAL DEPARTMENT CLIMATE CHANGE SERIES
Discover and follow our on-going Climate Change series:
Climate Change
PLANET PALA DIY, GREEN LIVING, AND WILDLIFE TIPS
Discover and follow our on-going Planet Pala series:
DIY | Green Living | Wildlife Tips
PLANET PALA ONLINE
You can find Planet Pala online:
Website | Instagram | Facebook
PALA ENVIRONMENTAL DEPARTMENT
For more information contact the Pala Environment Department:
760-891-3510 | ped@palatribe.com | ped.palatribe.com.