Article: PED Featured on the Capital Public Radio Website
Pala, CA – The Pala Band of Mission Indians and the Pala Environmental Department announces that the PED was featured on the Captial Public Radio website article, How Indigenous Knowledge Is Changing The Way California Tracks The Effects of Climate Change.

Article
The Pala Environmental Department's work on climate change was discussed in an article published by CapRadio in Sacramento on September 22, 2021. PED provided insights to California's Office of Environmental Health Hazard Assessment (OEHHA) for their Tribal Climate Indicators report, which will be released in early 2022.
"Shasta Gaughen, director of the Pala Band of Mission Indians' environmental department, said that for tribes, climate change comes with "intangible" impacts as well, affecting the way that members can access traditional foods or practice longstanding cultural traditions.
"The practices themselves are material in terms of gathering acorns and things like that, but they're intangible in terms of how they affect people's identity and sense of belonging," Gaughen said. "From the state standpoint, I would say that in general, the process has not been to look at those aspects of climate change.""
– Published by coparadio.com, Wednesday, September 22, 2021, FULL ARTICLE
Screenshot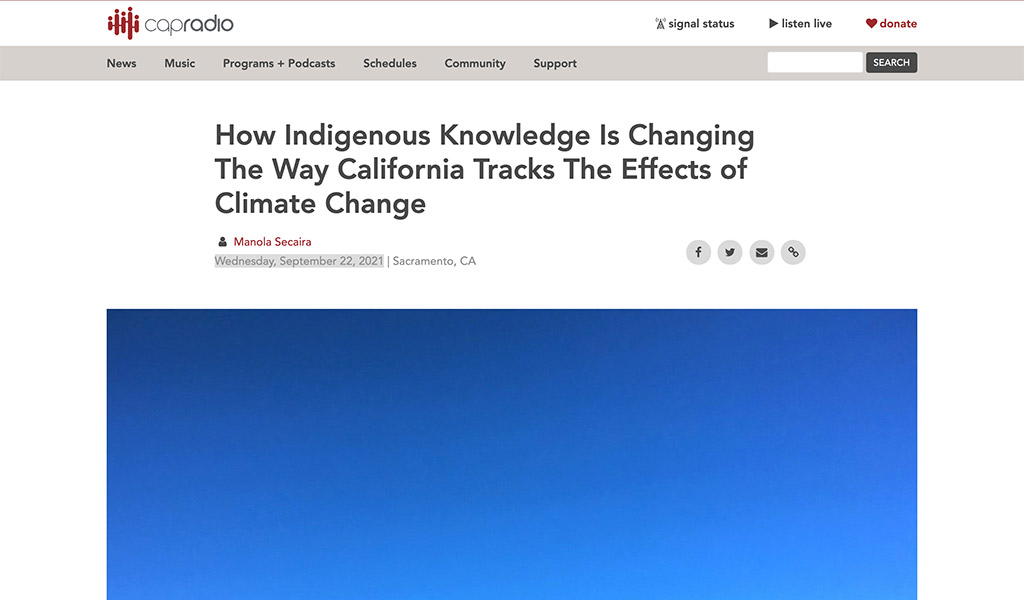 Pala Environmental Department
For more information contact the Pala Environment Department:
760-891-3510 | ped@palatribe.com | ped.palatribe.com