Planet Pala: Wildlife Tips – Swallow Nests and Buildings Facts

Welcome to Planet Pala brought to you by Pala Band of Mission Indians and the Pala Environmental Department.


PLANET PALA: WILDLIFE TIPS – SWALLOW NESTS AND BUILDING FACTS
SWALLOWS & THEIR NESTS ARE IMPORTANT
Swallows – both barn and cliff swallows – are common around buildings, making mud nests on eaves and overhangs, like on the Pala Administration building. Adults eat flying insects like mosquitoes and moths.
SWALLOW NESTS
Don't remove mud nests made by birds in the spring and summer! They need these homes to raise their young.
BARN SWALLOWS
• Nest on, or in, buildings in cup-shaped mud nests.
• Nest alone or in loose groups.
• Deep blue backs with a heavily forked tail.
• Hirundo rustica
CLIFF SWALLOWS
• Mud nests shaped like gourds.
• Nest in large colonies on buildings or cliffs.
• Adults are iridescent blue/black with flat tails and rusty patches.
• Petrochelidon pyrrhonata
• Often near water.
SWALLOWS IN FLIGHT
Swallows feed by "hawking". Adults will find an insect swarm and can be seen in the hundreds, swooping and eating bugs, many times above lakes or pastures. They help control disease by consuming pest insects.
DOWNLOAD TIP SHEET
Feel free to download the DIY – How to Compost at Home Sheet (.pdf).
---
Wildlife Tips – Swallow Nests and Buildings Facts Sheet, Page 1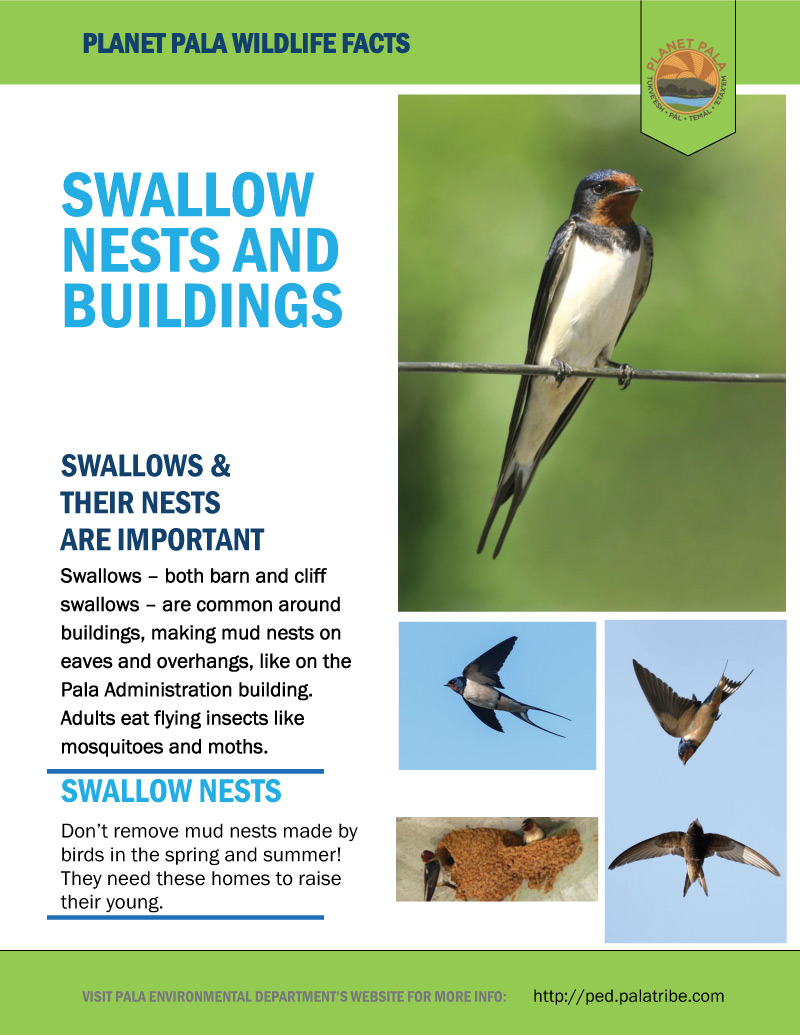 Wildlife Tips – Swallow Nests and Buildings Facts Sheet, Page 2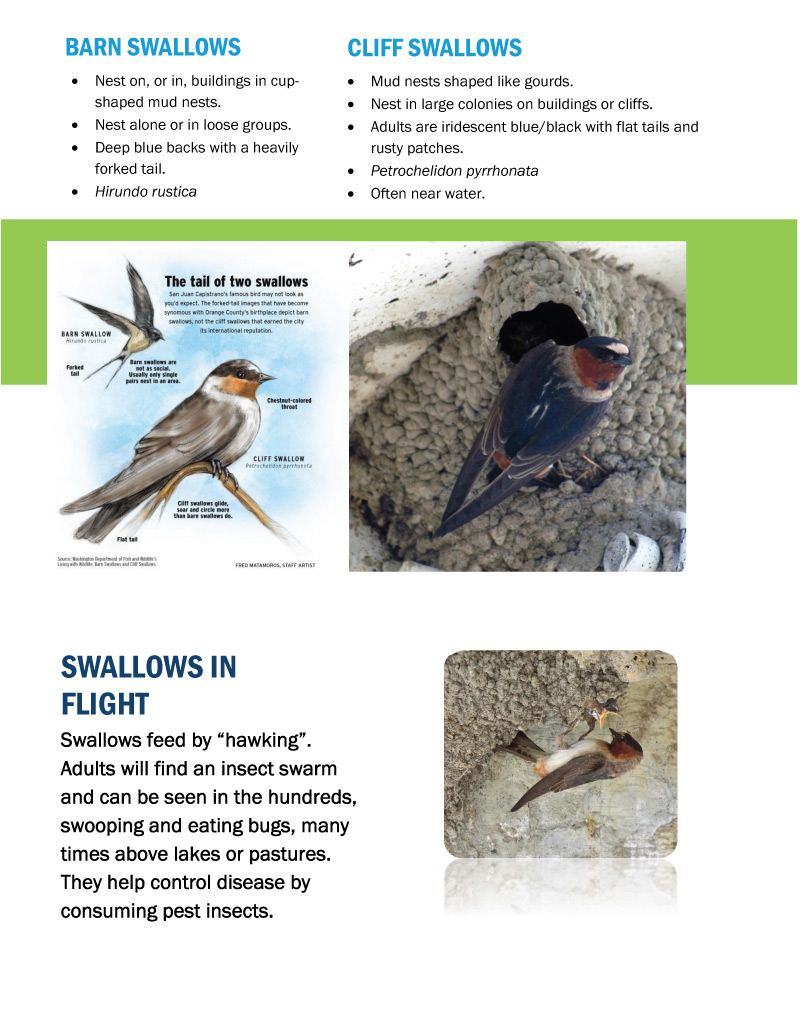 ---
PLANET PALA DIY, GREEN LIVING, AND WILDLIFE TIPS
Discover and follow our on-going Planet Pala series:
DIY | Green Living | Wildlife Tips
PLANET PALA ONLINE
You can find Planet Pala online:
Website | Instagram | Facebook
PED WILDLIFE BIOLOGIST
For more information from Pala Environmental Department's Wildlife Biologist:
Kurt Broz Profile | 760-891-3550 | kbroz@palatribe.com
PALA ENVIRONMENTAL DEPARTMENT
For more information contact the Pala Environment Department:
760-891-3510 | ped@palatribe.com | ped.palatribe.com.