Planet Pala: Wildlife Tips – Rattlesnake Facts and Safety

Welcome to Planet Pala brought to you by Pala Band of Mission Indians and the Pala Environmental Department.


PLANET PALA: WILDLIFE TIPS – RATTLESNAKE FACTS AND SAFETY
WHY ARE RATTLESNAKES IMPORTANT?
Rattlesnakes and other snakes eat small animals like rats and gophers. These snakes control the spread of diseases like hantavirus and plague or eat major crop pests.
VENOMOUS OR NOT?
The ONLY venomous snakes in California are rattlesnakes. No other snakes native to Pala are venomous.
AVOIDANCE
• Most bites occur in people attempting to kill a snake.
• Most bites in the US are to adult men harassing snakes.
• Snakes do not chase and do not want to bite.
PREVENTION
• Supervise child and pets outside.
• Remove trash and debris piles where snakes or their rodent prey might hide.
• Keeping rodents away from homes prevents snakes from seeking out this food source.
• Nest boxes for predatory birds can help control snakes.
BITE FIRST AID
Do NOT suck out the venom. This does not work and can be dangerous. Remove tight clothing, elevate the wound, and call 911. Treated snake bites are rarely fatal and many snakes do not always inject venom. Keep the bite victim calm and seek immediate help.
DOWNLOAD TIP SHEET
Feel free to download the Wildlife Tips – Rattlesnake Facts and Safety Sheet (.pdf).
---
Wildlife Tips – Rattlesnake Facts and Safety Sheet, Page 1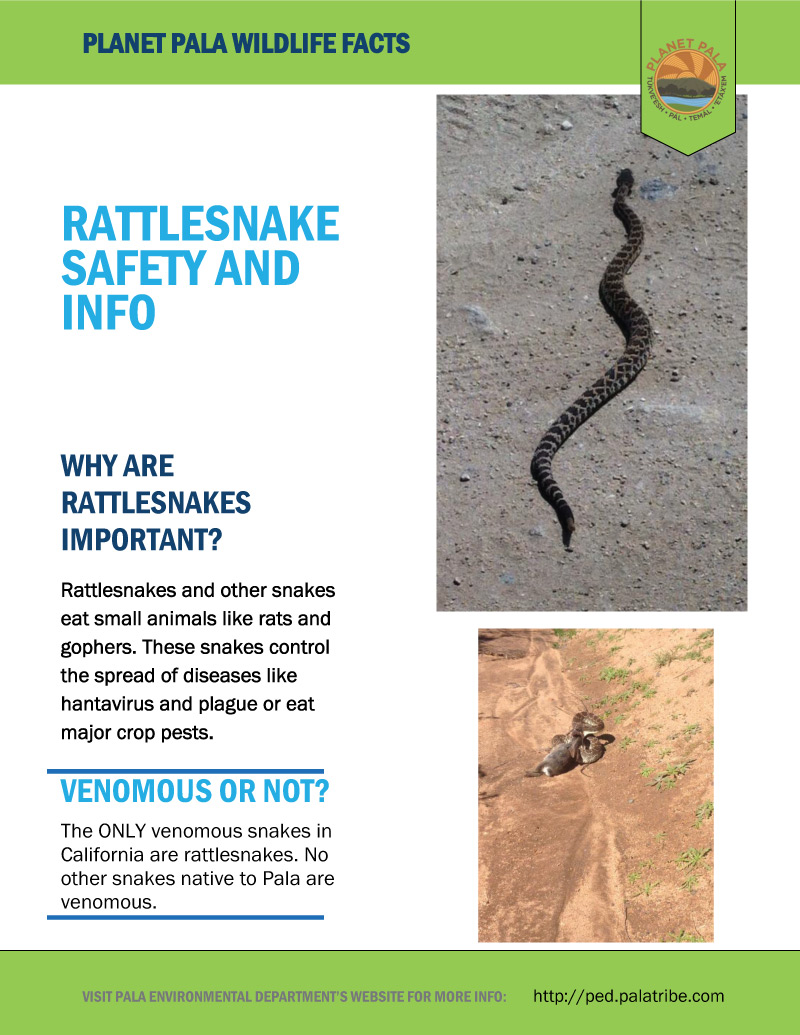 Wildlife Tips – Rattlesnake Facts and Safety Sheet, Page 2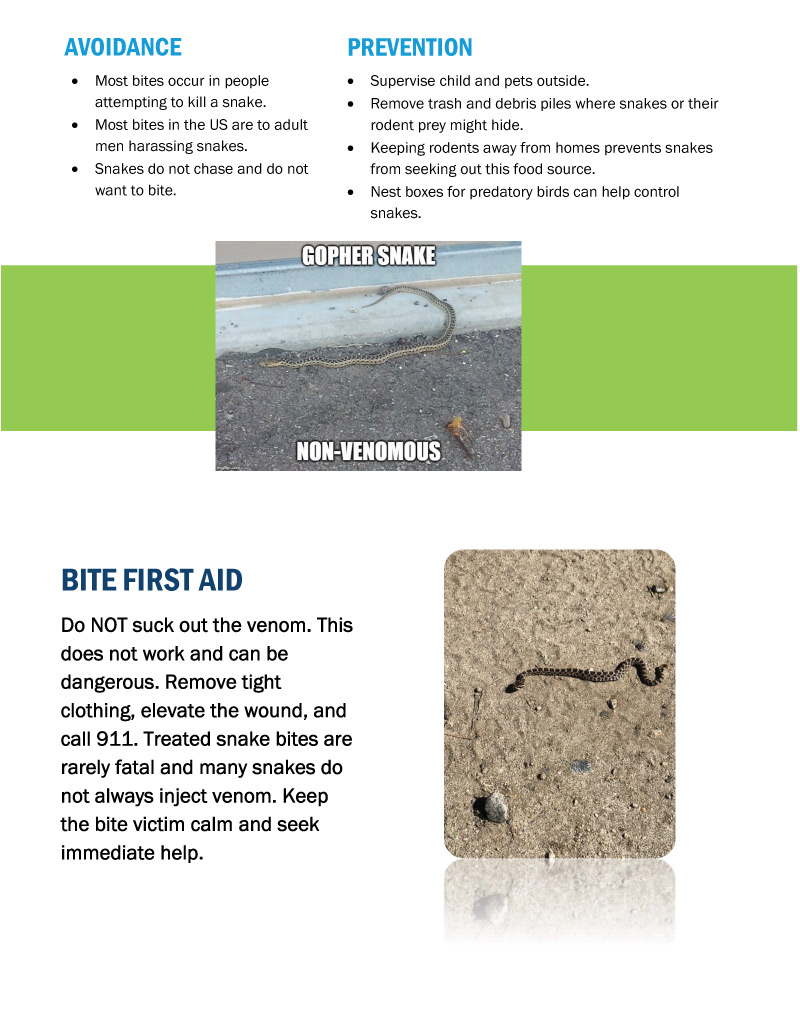 ---
PLANET PALA DIY, GREEN LIVING, AND WILDLIFE TIPS
Discover and follow our on-going Planet Pala series:
DIY | Green Living | Wildlife Tips
PLANET PALA ONLINE
You can find Planet Pala online:
Website | Instagram | Facebook
PED WILDLIFE BIOLOGIST
For more information from Pala Environmental Department's Wildlife Biologist:
Kurt Broz Profile | 760-891-3550 | kbroz@palatribe.com
PALA ENVIRONMENTAL DEPARTMENT
For more information contact the Pala Environment Department:
760-891-3510 | ped@palatribe.com | ped.palatribe.com.