Planet Pala: Wildlife Tips – Bee Facts and Safety

Welcome to Planet Pala brought to you by Pala Band of Mission Indians and the Pala Environmental Department.


PLANET PALA: WILDLIFE TIPS – BEE FACTS AND SAFETY
HONEY BEES OR NATIVE BEES?
Honey bees are from Europe and came to the Americas through agriculture use and accidental release. Our native bees are mostly mason bees, bumblebees, and other small solitary bees.
BEE HIVES
Honey bees nest in large colonies. Native bees nest singularly or in small colonies. Honey bees place large hives in trees, walls, or bee boxes. Paper hives are wasps, not bees.
SWARMS
• Bees finding new homes swarm.
• Swarms are large clumps of bees and rarely sting or attack.
• If you are too close, bees will flash their wings in swarms.
• Swarms away from homes can be left in place.
REMOVAL
• The PED does NOT remove bees.
• The PED CAN assist with helping community members find services for removal.
• Never attempt to remove hives or swarms yourself.
• Bees "swarming" around water or trash can be remedied by removing or reducing the source.
ATTRACT POLLINATORS!
Bees and other pollinators are vital for healthy wildlands and growing food. Attract bees to the garden by planting native wildflowers, have water (a "bee bath"), have some open ground for native bees to nest, and avoid spraying pesticides.
DOWNLOAD TIP SHEET
Feel free to download the Wildlife Tips – Bee Facts and Safety Sheet (.pdf).
---
Wildlife Tips – Bee Facts and Safety Sheet, Page 1
Wildlife Tips – Bee Facts and Safety Sheet, Page 2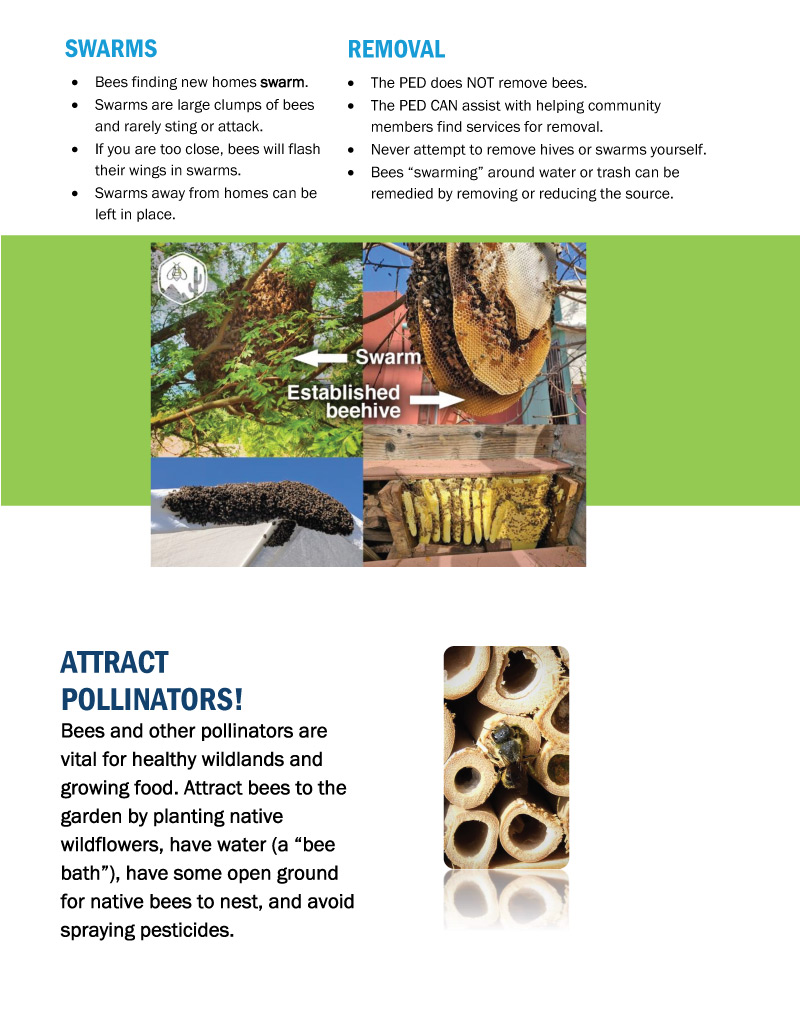 ---
PLANET PALA DIY, GREEN LIVING, AND WILDLIFE TIPS
Discover and follow our on-going Planet Pala series:
DIY | Green Living | Wildlife Tips
PLANET PALA ONLINE
You can find Planet Pala online:
Website | Instagram | Facebook
PED WILDLIFE BIOLOGIST
For more information from Pala Environmental Department's Wildlife Biologist:
Kurt Broz Profile | 760-891-3550 | kbroz@palatribe.com
PALA ENVIRONMENTAL DEPARTMENT
For more information contact the Pala Environment Department:
760-891-3510 | ped@palatribe.com | ped.palatribe.com.