Planet Pala: Green Living – Are you Wasting Food?

Welcome to Planet Pala brought to you by Pala Band of Mission Indians and the Pala Environmental Department.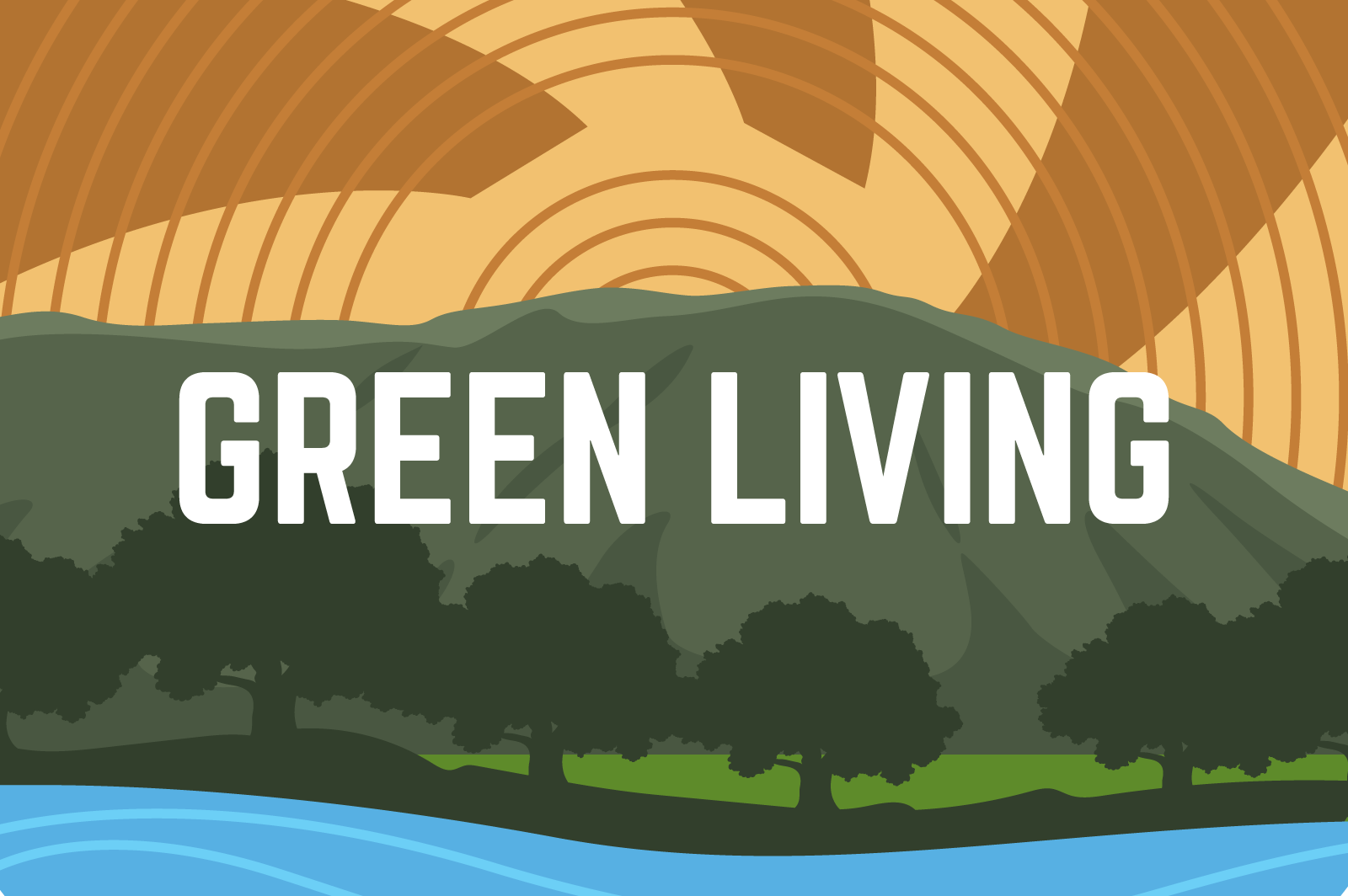 PLANET PALA – GREEN LIVING: ARE YOU WASTING FOOD?
Are you wasting food?
40% OF OUR FOOD ENDS UP IN THE TRASH
Learn how to prevent food waste & save your $$ in the process. There are lots of easy tips you can do at home. Every single action adds up to success.
LOVE FOOD, HATE WASTE
The Food Revolution starts with YOU….. To waste less food, what will YOU do?
THE PROBLEM – LOTS OF WASTED FOOD
Americans throw away A LOT of food every year – way more than we think we do. Wasted food occurs when we buy too much food & it either spoils before we can use it or we make too much, so we toss it away. We also throw away food scraps (eg: peels, rinds, etc), which we could compost instead. Food retailers often toss fruits & veggies that don't look perfect but are still edible.
This is a huge waste of money & resources (the cost of the water, energy, transportation it takes for us to get our food). It also takes up a lot of room in our landfill & emits greenhouse gases; instead, we should turn it into a resource by composting it. And remember, we ALL have a part to play in reducing our food waste.
THE SOLUTION
• Plan your meals before you shop
• Buy only what you need
• Store food properly or freeze items for later
• Eat what you buy/make
• Eat those leftovers! (or use them to make new meals)
• Compost your food scraps & any food that you don't eat
• Shop at your local farmer's markets, CSA's, and Imperfect Produce (website)
• Do a food waste audit (to see how much you throw away)
TIPS AND RECIPES
For more tips & recipes, just Google 'love food hate waste.'
DOWNLOAD TIP SHEET
Feel free to download the Green Living – Are you Wasting Food? (.pdf).
---
Green Living – Are you Wasting Food?, Page 1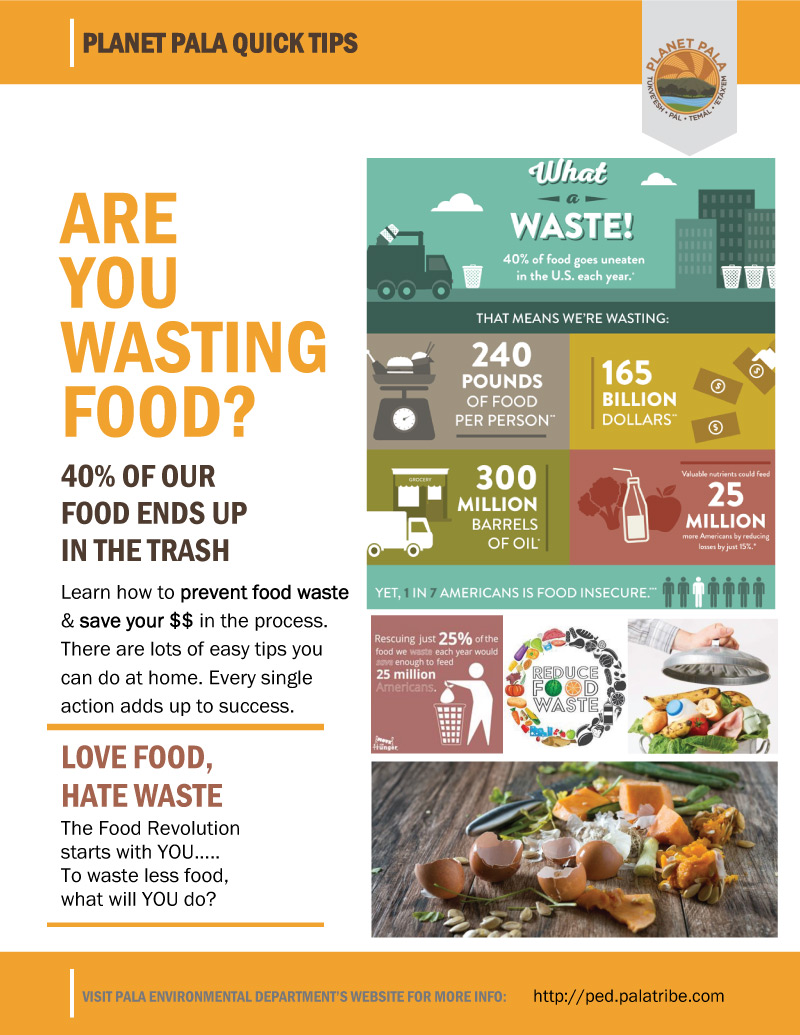 Green Living – Are you Wasting Food?, Page 2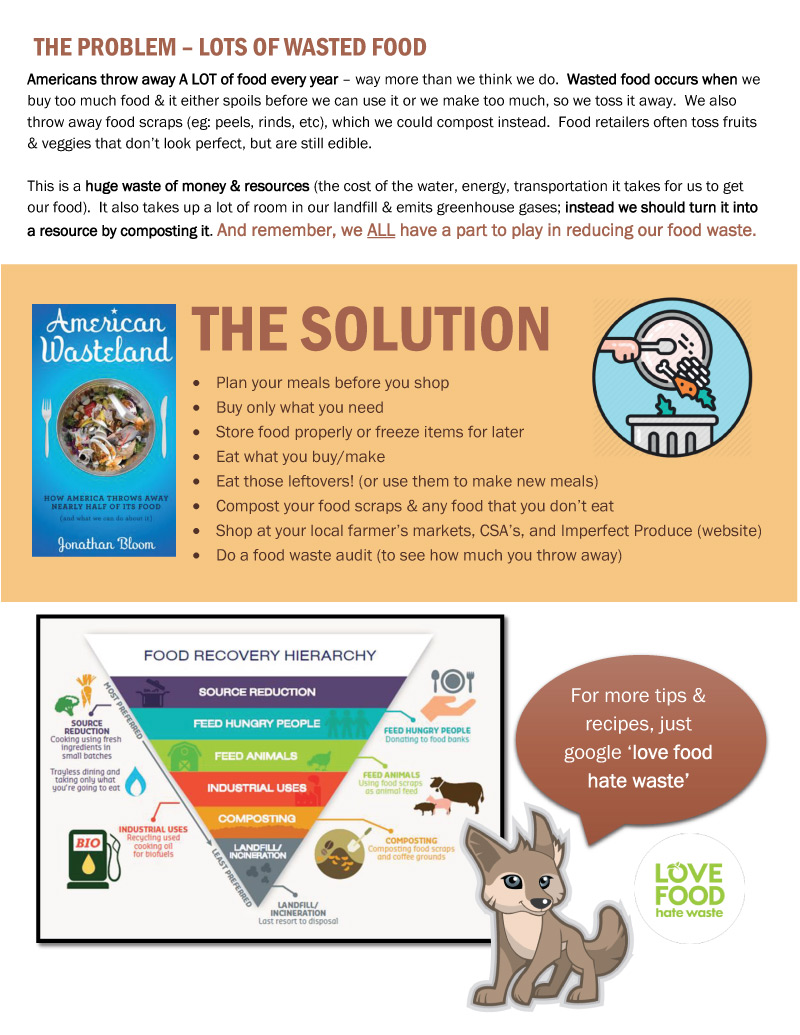 ---
PLANET PALA DIY, GREEN LIVING, AND WILDLIFE TIPS
Discover and follow our on-going Planet Pala series:
DIY | Green Living | Wildlife Tips
PLANET PALA ONLINE
You can find Planet Pala online:
Website | Instagram | Facebook
PED WATER RESOURCE SPECIALIST
For more information from Pala Environmental Department's Water Resource Specialist:
Heidi Brow's Profile | 760-891-3514 | hbrow@palatribe.com
PALA ENVIRONMENTAL DEPARTMENT
For more information contact the Pala Environment Department:
760-891-3510 | ped@palatribe.com | ped.palatribe.com.