Planet Pala: DIY – How to Compost at Home

Welcome to Planet Pala brought to you by Pala Band of Mission Indians and the Pala Environmental Department.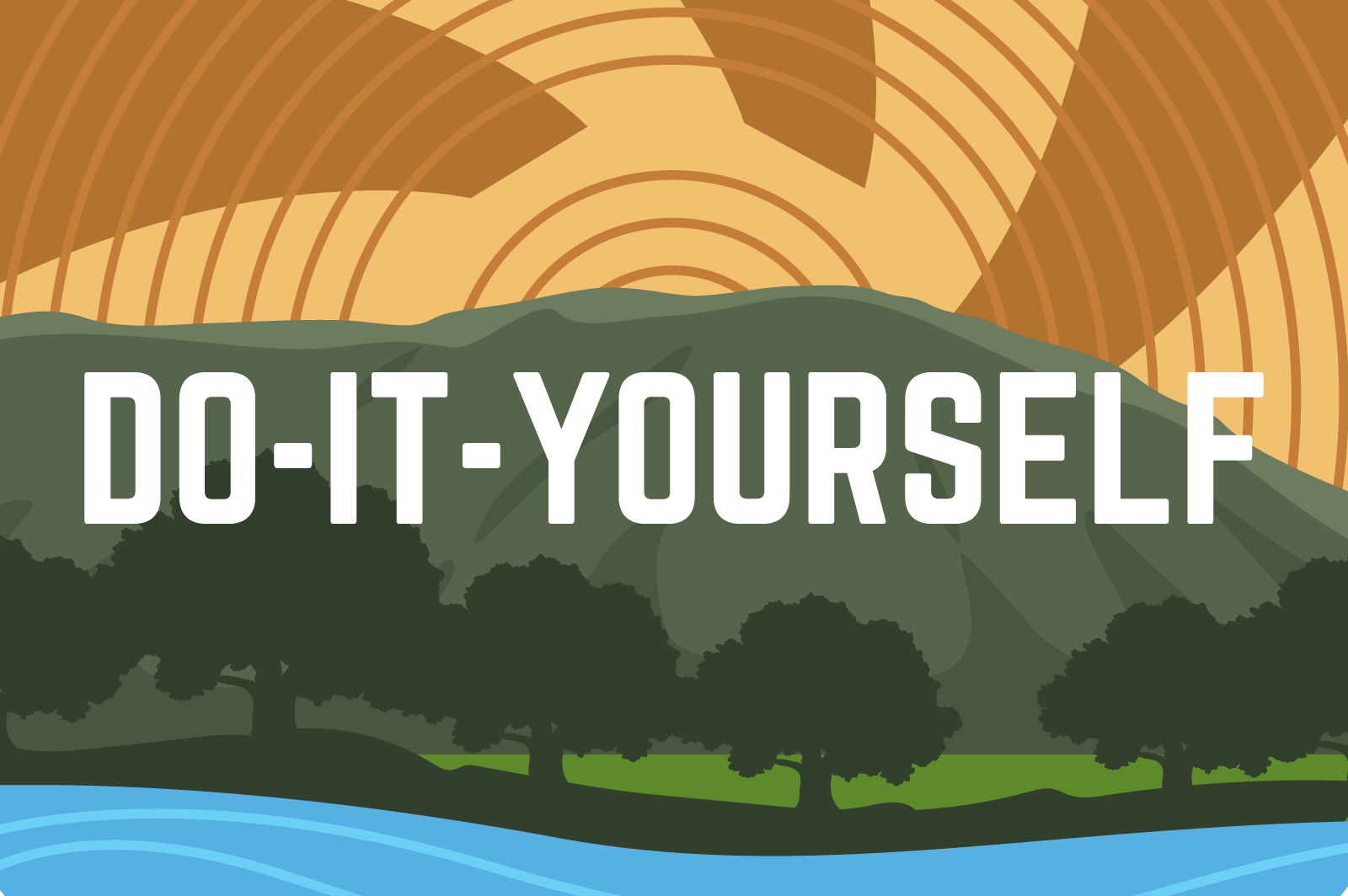 PLANET PALA: DIY – HOW TO COMPOST AT HOME
HOW TO COMPOST AT HOME
Composting is just a way to recycle your food & yard waste!
Benefits of Composting, include: improves the structure & fertility of garden soil; adds nutrients & good bugs to your garden; and prevents diseased plants.
COMPOST NEEDS…
Heat, moisture, oxygen, plus a mixture of 2 parts green (nitrogen) & 1 part brown (carbon) organic materials.
WHAT TO FEED YOUR COMPOST PILE
Feed your pile roughly 1 part browns (carbon/usually drier yard waste/leaves) & 2 parts greens (nitrogen/usually food-based waste). You also want to keep it moist (like a wrung-out sponge) & turn it a couple of times a week.
Carbon (BROWNS)(50%)
Carbon-Rich Materials (Dry):
• Brown Leaves
• Twigs & Branches (small)
• Brown Paper Bags (shredded)
• Newspaper & White Paper (shredded)
• Cardboard, Toilet Paper Rolls (shredded)
• Cereal Boxes (shredded)
• Egg Cartons & Coffee Trays (shredded)
• Coffee Filters & Tea Bags
• Pine Needles
• Old/Dead Plants (not diseased ones!)
• Straw & Hay
• Wood Chips / Mulch
Nitrogen (GREENS)(50%)
Nitrogen-Rich Materials (Wet):
• Fruit & Veggie Scraps/Peels
• Cores & Rinds
• Coffee Grounds & Tea
• Crushed Eggshells
• Cooked Pasta (no sauce)
• Cooked Rice
• Bread
• Grass Clippings
• Green Leaves
• Sandwich crusts, old bread
• Soggy cereal
• Stale pastries
TYPES OF COMPOSTING
CHOOSE YOUR BIN BASED ON HOW MUCH GREEN WASTE YOU HAVE, YARD SIZE, & HOW MUCH WORK YOU WANT TO DO.
• Worm Composting
• Outdoor Piles
• Bin / Box
• Tumblers (fast)
• Bokashi
• Green Cone
So How Do I Compost? A Step-by-Step Guide… [see graphics]
DOWNLOAD TIP SHEET
Feel free to download the DIY – How to Compost at Home Sheet (.pdf).
---
DIY – How to Compost at Home Sheet, Page 1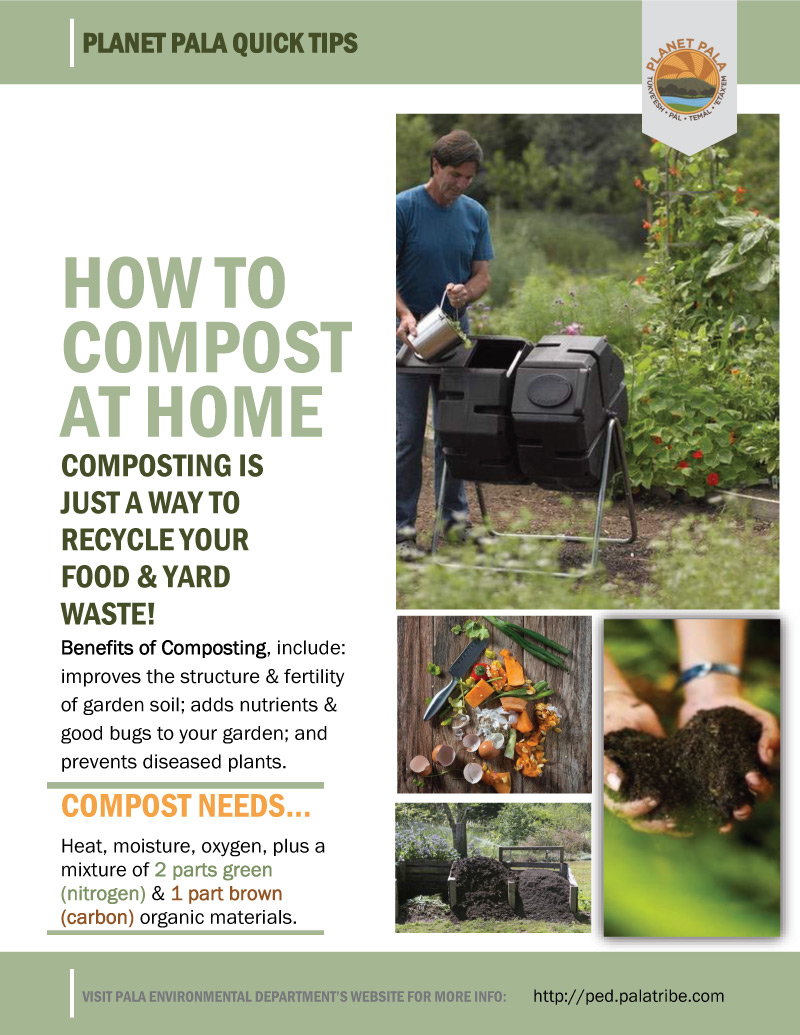 DIY – How to Compost at Home Sheet, Page 2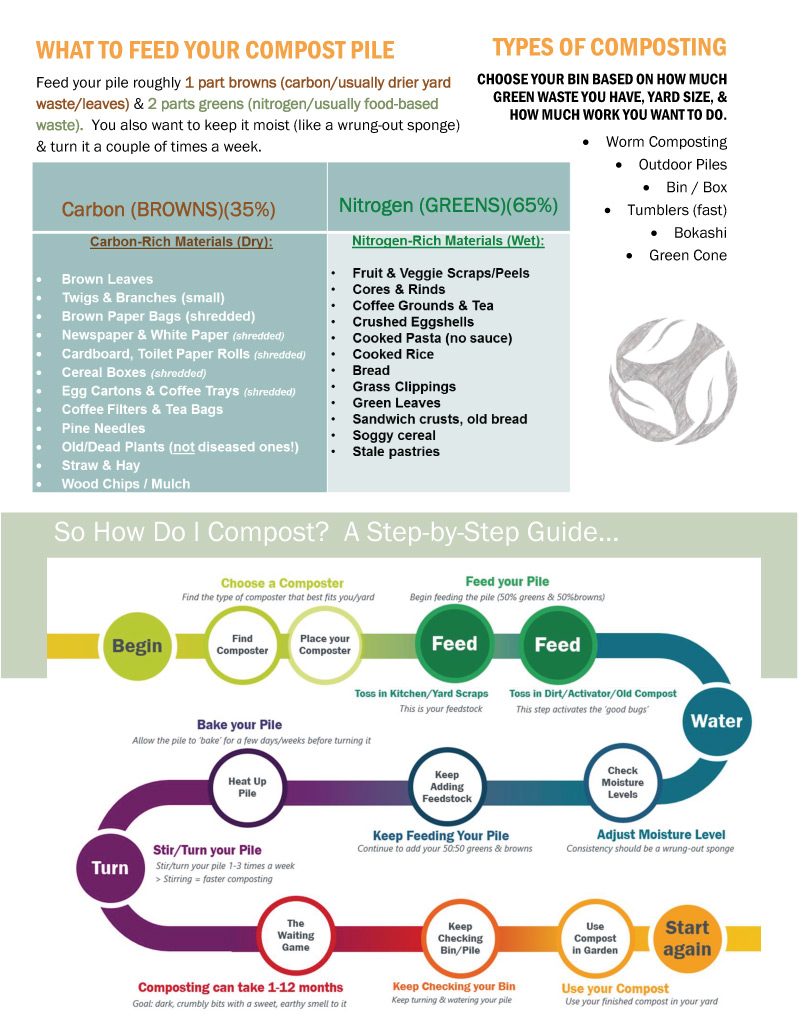 ---
PLANET PALA DIY, GREEN LIVING, AND WILDLIFE TIPS
Discover and follow our on-going Planet Pala series:
DIY | Green Living | Wildlife Tips
PLANET PALA ONLINE
You can find Planet Pala online:
Website | Instagram | Facebook
PED WILDLIFE BIOLOGIST
For more information from Pala Environmental Department's Water Resource Specialist:
Heidi Brow's Profile | 760-891-3514 | hbrow@palatribe.com
PALA ENVIRONMENTAL DEPARTMENT
For more information contact the Pala Environment Department:
760-891-3510 | ped@palatribe.com | ped.palatribe.com.